Hessle sits on the banks of the River Humber, near the estuary and near to Kingston-Upon-Hull (known simply as Hull). It's a local town with a rich past in shipbuilding, and expanded dramatically because of its geographical location. As people moved out of the dirty city, merchants moved to Hessle and constructed large houses.
Now it's known for The Humber Bridge. Hessle isn't necessarily a tourist town, but they hold an event annually called the Hessle Feast, which draws in plenty of visitors. It's a celebration of food, drink, and has local entertainment and a boat race. If you're in the area on the weekend it's on, it's worth a visit.
History
While Hessle sits by the coast, it doesn't actually look onto the sea. The town looks onto the River Humber, and isn't far from the city of Hull, Yorkshire. Settlement there dates as far back as the Domesday Book of 1086, where it was called Hase and there was a ferry that linked it with Barton on the south bank of the River Humber.
In the 18th century It had only a few hundred, but by the beginning of the 19th century in 1801, there were people arriving into the town to escape the city of Hull. It became a bustling community, with plenty of grand houses built for wealthy merchants who wanted to live outside of the city. Throughout the century it ballooned to over 3,000 residents and has continued to grow.
It was once a shipbuilding hub, with several shipyards, one of which built ships for Caledonian MacBrayne for the Outer Hebrides of Scotland. Nowadays, it's known for the Humber Bridge, and is a suburb of Hull with a population of around 15,000.
The Hessle Feast
The Hessle Feast was a celebration held in the community many years ago. There is evidence of it from articles in 1808 and 1836 discussing the feast being an enormous event that drew in crowds from surrounding villages and towns. It was a day for jubilation and joy, with reports of noisy and drunken behaviour.
The feast has been happening for decades, and will be fondly remembered from locals who have grown up in the area. Around 15 years ago, people in it brought this celebration from the past into the modern day, and recreated it. In 2006, over 5000 local residents and visitors engaged in the Feast, with a Battle of the Bands and a Buskathon, as well as lots of food and drink stalls and a boat race.
Photos:  Hessle Feast FB Page  With kind permission
It paused from 2007 to 2009 because of the ongoing floods at Hessle and then returned with a much larger crowd than before. This time, they hosted events like Hessles Got Talent and a fashion show. There was a DJ and lots of local exhibitors.
Hessle Feast continues, and was most recently held on 10 July 2022.
Floods in Hessle
In June 2007, unprecedented levels of torrential rain flooded north-east England as 100m of rain fell from the heavens in a few hours. Hessle was flooded, and a local man died. The residents formed an association called the Hessle Community Action Residents Association to campaign for improvement sin the area against floods.
They built a flood storage scheme from 2010 to 2011 to prevent floods from affecting the town again.
The Humber Bridge
Hessle is now known for The Humber Bridge, that dominates the landscape and links the town with Barton-Upon-Humber on the south bank of the river. Prior to construction, commuters used a ferry to cross the river, but as the population swelled, it became clear that a more permanent option was necessary.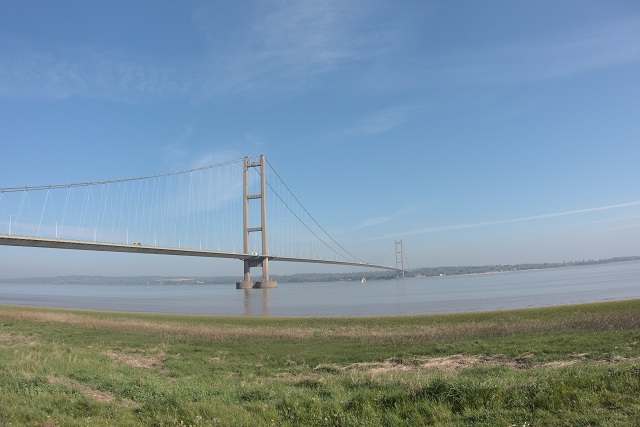 Photo; GBC
The Humber Bridge was constructed and opened in June 1981 by Queen Elizabeth II. At the time, the bridge was the longest single-span suspension bridge stretched for a whopping 2,220m. However, in 1998, the Akashi Kaikyo Bridge opened in Japan and took the record from The Humber Bridge.
A Busy Community
Hessle is a working town full of commuters for nearby Hull. Its proximity to the city makes it an ideal spot for settling down and having a garden while being in easy commuting distance. Unlike other towns in Yorkshire, it's not a holiday spot and doesn't draw in many tourists. But it's still a nice place to visit, even if there's no beach. There is a lovely foreshore area and green country park for wandering in.