The quiet Scottish village
Morar is a small  village a few miles south of the port village of Mallaig. North of Fort Willam on the west side of Scotland.
The village was created as one from the various farms and crofts of Bourblach, Beoraid Beg and Beoraid Mor.  The village  has grown around the railway station of Morar on the West Highland Line during the 20th century. As recently as 1911 from a census the village name was not then in regular use.
The village is part of the Morar, Moidart and Ardnamurchan National Scenic Area, meaning that it is an area of exceptional scenery and the classification ensures its protection from certain types of development that could spoil the beauty.
It is a small, tranquil village on the banks of the River Morar, nearby is Loch Morar which is the deepest freshwater loch in Europe. There are two lovely tranquil sandy beaches; the Silver Beach and Ben's Beach.  It enjoys a sheltered location tucked into its own bay, it's a beautiful place with stunning views.
Morar shares its Viking history with Arisaig, so I won't go into that again here (see Arisiag for details).
There is a pretty church near the loch Our Lady of Succour & St Cumins which is part of the Roman Catholic Diocese of Argyll & The Isles.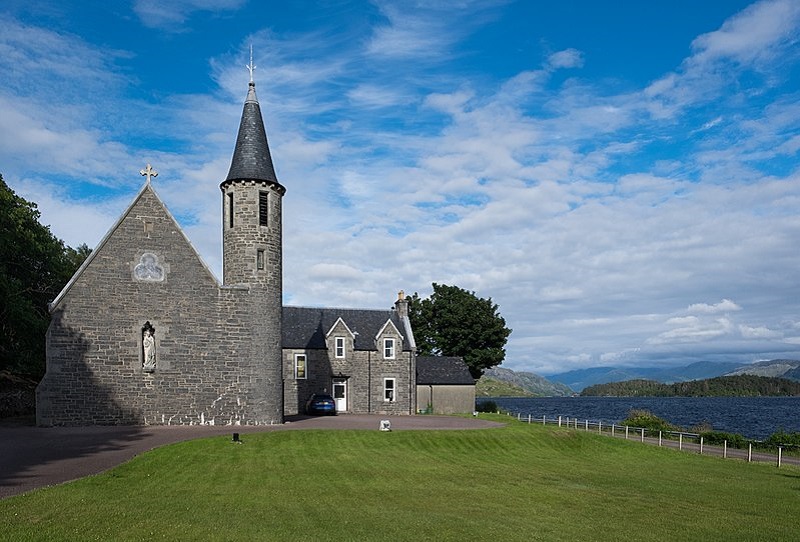 Photo: DeFacto, CC BY-SA 4.0, via Wikimedia Commons
Map and address of Morar
History about village
Sir Arnold Bax (1883-1953) worked on his Third Symphony and subsequent worked there at the Station Hotel, now the Morar Hotel.
The Beach Scenes for the film Local Hero were filmed at there and Arisaig. Other films include Highlander from 1986 and Rob Roy form 1995.
There is no doubt that the village is a wonderful place. It's a complete contrast to the working port of Mallaig less than three miles further up the road That is one of the things that makes it so special. Just as Mallaig is unique because it is so at odds with its surroundings, Morar is special because of how it is integral to those surroundings and because it probably could not be more different from Mallaig.