The village of Llangrannog is spread along a narrow valley between New Quay and Cardigan each around 6 miles either side.
The valley is the home of the River Hawen that actually falls as a waterfall close to the centre of the village before continuing out to sea.
Waterfall
Source: Youtube Evelyn Nicholson
The older part of the village that grew up around the church is above the waterfall and hidden from the sea round a corner.  The church is very pretty and close to the road.  It replaces an earlier wooden church from AD 500.
The village is very spread out along the valley and is surrounded by lush green trees and vegetation.  The road takes you down to sea level, and as is often the case in such locations there is a feeling of inevitability, It's inevitable that the land will end at the sea's edge and there is an anticipation of what we will find there.
There were once five lime kilns there, and only one remains that can be found behind the Boat Club on the road up to the headland Pen Rhip.
St Mary's well is an ancient well that was once popular with pilgrims who would visit and take the waters.
A small commercial seaport was created there, and the port at Llangrannog was used to transport coal and other commodities.   Before 1914 almost all of the men that lived there were connected to the sea.
Today though it is a picturesque location with a sheltered sandy beach that gains its primary income from tourism.
The waterfall mentioned above was used to drive a woollen mill that can be seen a few meters away.
The two pictures below are screenshots from Google maps, and the second is a 90 degree angle from the first.
Showing what a beautiful viewpoint there is from the headland.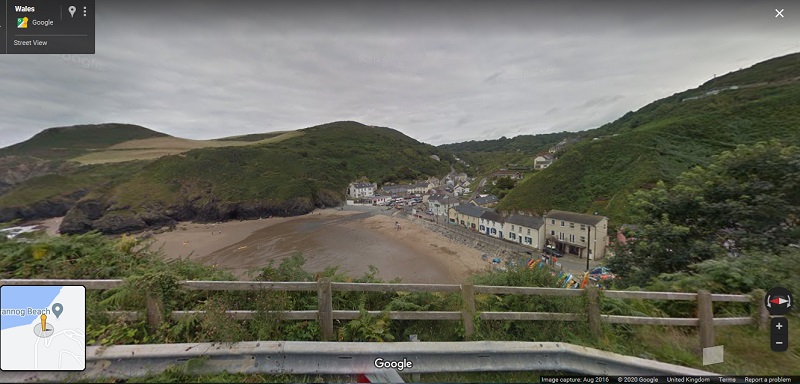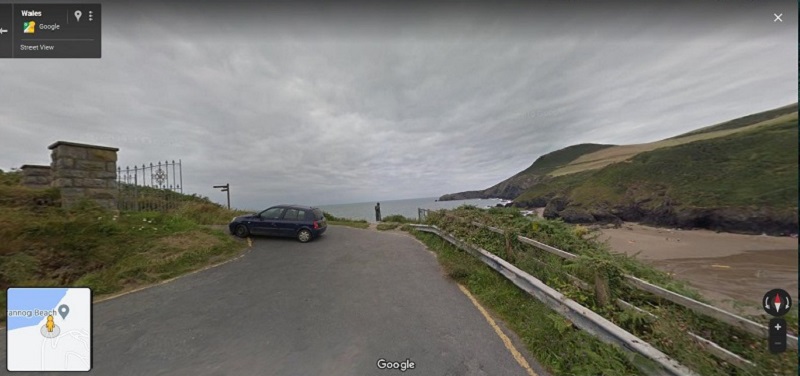 The pretty, sheltered beach won a blue flag award and has lifeguard patrols.
According to the village website, Llangrannog is well known as a tranquil, safe, seaside holiday location.  There are two pubs, two cafes and a general store and parking close to the beach and that lovely sandy beach.
What makes Llangrannog unique is the waterfall falling in close to the centre of the village.