This stretch of coastline is, much like the Cornwall coast, characterised by very high rugged cliffs and numerous coves. However, it also contains a few sandy beaches, sand dunes, towns and villages, and even an estuary. Here, I am covering the entire coastline along the northern edge of Devon, but I also carry on along the coast into Somerset, stopping at Minehead. This is because the Exmoor coastline is rather distinctive, but as this is located in both Devon and Somerset, this would prevent me from being able to summarise this coastline properly. Therefore, I have examined this coastline as a whole.
I feel that this coastline can be split into two main sections – Mead to Combe Martin, and the Exmoor Coast (Combe Martin to Minehead). This is because each section has a distinct characteristic – the first section tends to have cliffs interspersed by villages, towns, sandy dunes and an estuary, while the second section is characterised by even higher cliffs, some of which are amongst the tallest in England.
Mead to Combe Martin
Known as the Hartland Devon Heritage Coast, the coastline from the Cornwall border up to the village of Westward Ho! is rather similar to that of northern Cornwall. Facing the Atlantic Ocean, it is made up of rather high cliffs with numerous small but rocky coves, with rocks in the sea that were once parts of the cliff face before coastal erosion did its work. The rock here is made from shales and sandstones; these may not be as hard to erode as the rock that makes up much of Cornwall, but they are still rather resistant to sea erosion.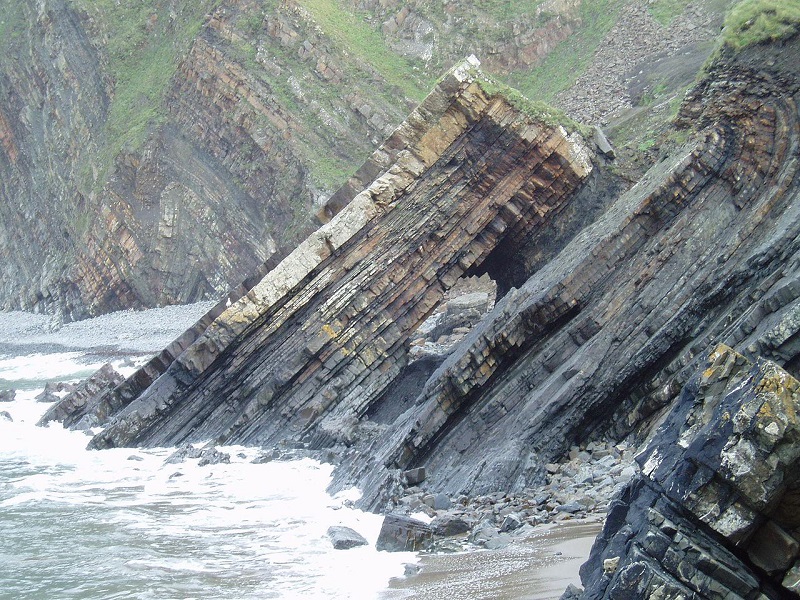 Along sections of the coast, spectacular rock folds can be seen in the cliffs – most notably at Hartland Quay, where a folded sequence of alternating sandstone and shales layers can be seen [1]. The coastline is not as well-known for its headlands as much as Cornwall is, but it does contain Hartland Point, at which the coastline turns quite suddenly from north to east. Once a major shipwrecking hotspot, a lighthouse sits on top of the cliffs here.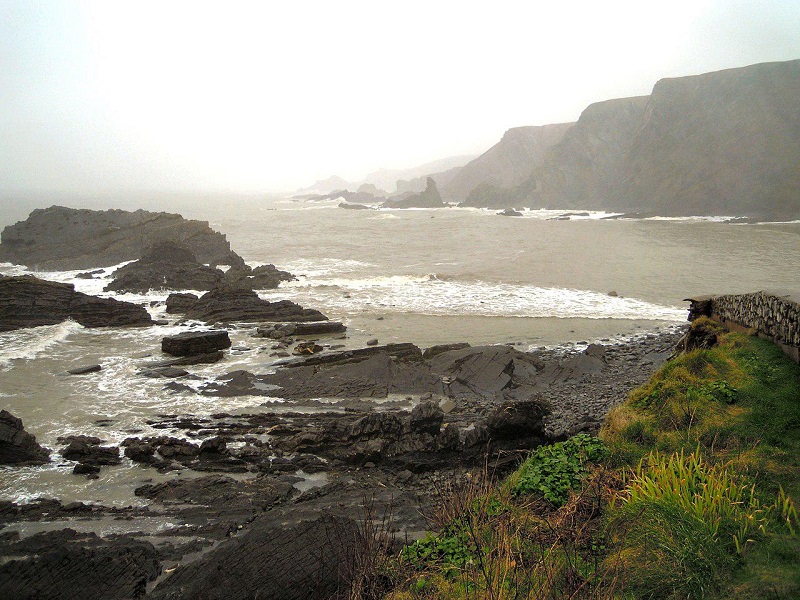 Apart from local footpaths, the coastline here is rather wild and inaccessible, with few valleys leading to the coastline through these cliffs. However, where access is relatively easy, these opportunities are exploited. A few quays exist along the coast – one of which is at Clovelly. This is a small village that exists along a small, steeply-sloping valley down to the sea – as well as various tea rooms, hotels and even a restaurant, there is also a quay and lifeboat station here.
At Westward Ho!, a small but very touristy village (which also serves as the only British placename with an exclamation mark), the cliffs disappear, being replaced with a rarity for this section of coastline – rather flat and expansive land. This is due to the Torridge Taw estuary, where the Torridge and Taw Rivers meet, forming a large estuary. In this vicinity, there are a few port villages (Westward Ho!, Appledore and Instow), and Saunton Sands, which is a large very sandy beach backed by a huge dune system. Known as Braunton Burrows, this is one of the largest dune systems in the British Isles – at around 1000 hectares in size, these dunes are a UNESCO-designated biosphere reserve [2].
North of these dunes, the seaside terrain turns rugged once again. Between here and Combe Martin are Baggy Point headland, the sands of Croyde Bay and Woolacombe Beach, and the picturesque port town of Ilfracombe.
Exmoor Coast (Combe Martin to Minehead)
There are two reasons why I have chosen the picturesque port town of Combe Martin as the point dividing these two sections: one is that we soon enter Exmoor National Park here, but another is that the cliffs become noticeably higher and far more remote and wild to the east of this point. This is because the coastline between here and Minehead borders directly onto Exmoor, which is an area of moorland in northern Devon and western Somerset that often reaches above 250 metres (800 feet) in altitude, but in some places reaches above 400m (1300 feet). It is also worth pointing out that this stretch of coastline faces north, overlooking the Bristol Channel, instead of the Atlantic Ocean.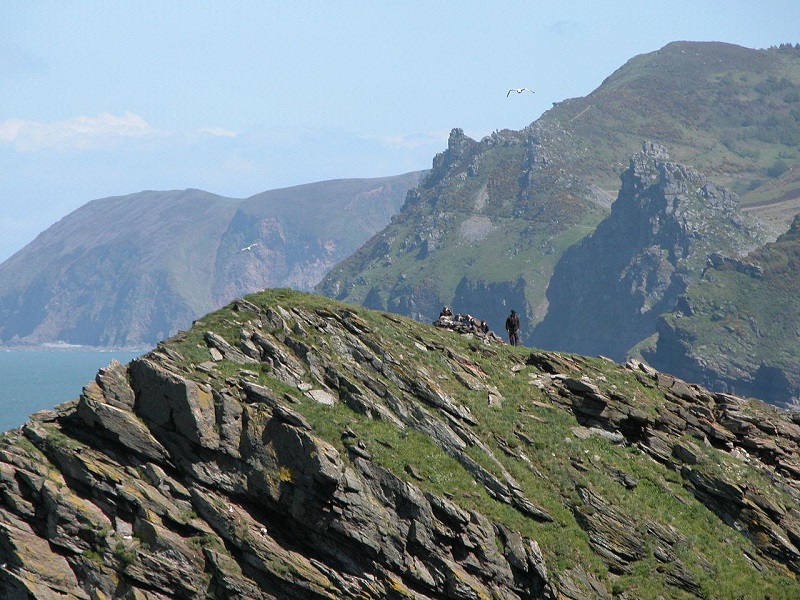 There are some very high cliffs along this section of the coastline – some of these are amongst the most spectacular cliffs in England, and despite brief breaks due to occasional river valleys, the cliffs are almost continuous. The rock here mainly consists of hard sandstones, shales and gritstones, hence the hardiness of the rock against sea erosion. There are many points of interest along the Exmoor coastline, with many coastal footpaths linking these with the road network.
Great Hangman is a 300-metre high hill, from which you can look out over the sea below – it is possible to see Wales in the distance from here. Some of the highest cliffs in England are at this location, stretching up to 250 metres (800 feet) in height. Also, Foreland Point is a rather spectacular rock headland just to the east of Lynton, upon which a lighthouse sits. As well as this, coastal waterfalls are located along the cliffs. One of these – Hollow Brook (just north of Martinhoe) – has a vertical drop of 200 metres (600 feet) over a horizontal distance of 400 metres (1300 feet). This is one of the tallest waterfalls in the United Kingdom [3].
Although the cliffs are, as you would expect, rather rocky, many shallower slopes and valleys amongst the cliffs contain some rather thick woodland areas. For example, there are 10 miles of natural coastal oak woodland stretching from Countisbury to Porlock. Picturesque coastal woodland can also be found surrounding Woody Bay, a coastal village that is nestled amongst the slopes of this coastline, to the west of Lynton [3].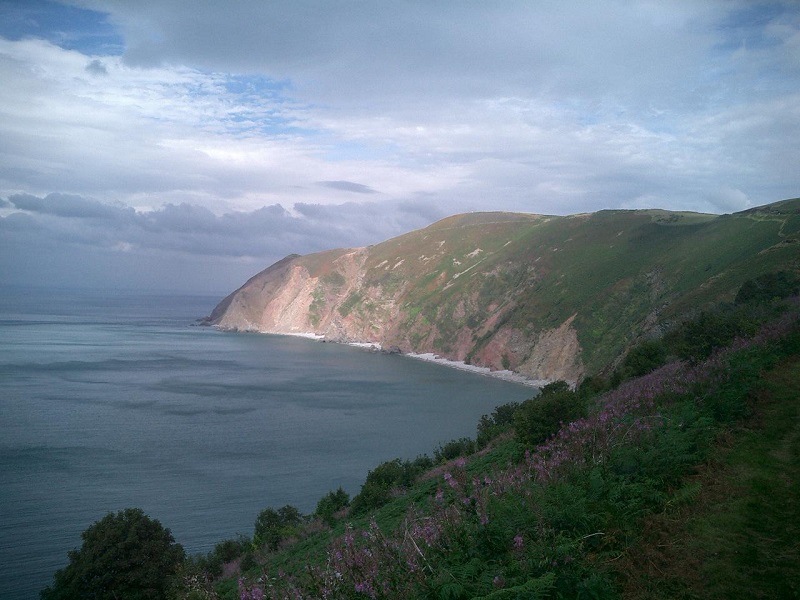 Since this is a rather wild and remote part of the coastline, coastal ports and villages are rather few and far between. However, where they do exist, they are located in very scenic valleys. One of these is the town of Lynmouth – located at the point where two rivers meet a couple of hundred metres before meeting the sea, this picturesque coastal town is nestled in a tree-lined valley. Containing various tea rooms, hotels and even a cliff railway to the equally picturesque village of Lynton that sits on top of the valley, it is no surprise that this is a large tourist attraction.
Apart from a small gap of rather flat land close to the village of Porlock, the cliffs continue through to Minehead. This is a small coastal Somerset town that contains a sandy beach, as well as various other attractions including a large holiday camp. Despite the Devon-Somerset border being around 20km (12 miles) to the west of here, I would say that it is around here that the coastline typically associated with Somerset and the Severn Estuary finally begins.
References
[1] https://www.geolsoc.org.uk/Policy-and-Media/Outreach/Plate-Tectonic-Stories/Hartland-Quay
[2] https://www.visitdevon.co.uk/northdevon/things-to-do/braunton-burrows-p2526273
[3] https://www.exmoor-nationalpark.gov.uk/learning/exmoor-facts-and-figures#:~:text=Exmoor%20has%20the%20highest%20sea%20cliffs%20on%20the%20British%20Mainland&text=If%20a%20cliff%20is%20defined,of%20250%20metres%20(800ft).