A beautiful town on the southern estuary of the River Humber, Barton-Upon-Humber, has a lot to offer visitors. The entire town is steeped in history, so if you want to visit a place that'll make you feel you're stepping back in time, this is worth a look. It's also the beginning point for the Viking Way under the impressive Humber Bridge.
It lies just below Kingston-Upon-Hull, connected by the Humber Bridge, and is near Scunthorpe and Grimsby.
History
There's evidence of human inhabitation in the area going right back to 4000 BC. It's a place steeped in history. Archeological discoveries include polished handaxes dated to the Neolithic era (4000–2500 BC). A Roman road was excavated in the 1960s and other items from Roman life were found. These included coins, pottery, and querns.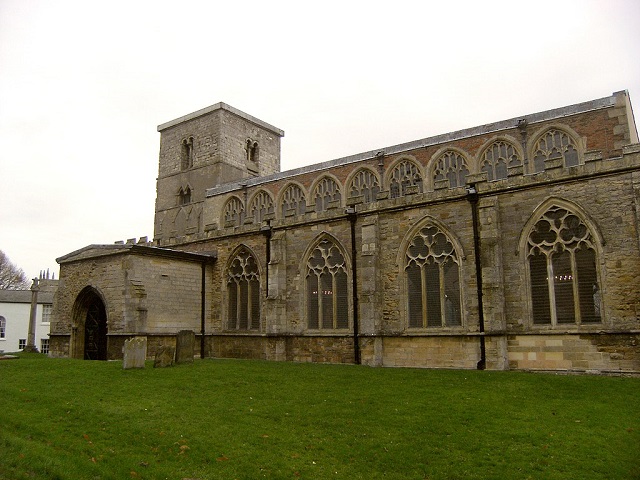 Photo: Warofdreams, CC BY-SA 3.0, via Wikimedia Commons
St Peters Church in Barton-Upon-Humber has a tower dating back to Anglo-Saxon times, and excavations of an early Anglo-Saxon cemetery were carried out at Castledyke. Graves in the cemetery were dated back to the ninth century. The church has been restored and is open to visitors. Barton-Upon-Humber was named in medieval documents dating back to 1086, and there are mentions of a ferry to take passengers to nearby Hull. The town has been continuously inhabited since then and continues to flourish today.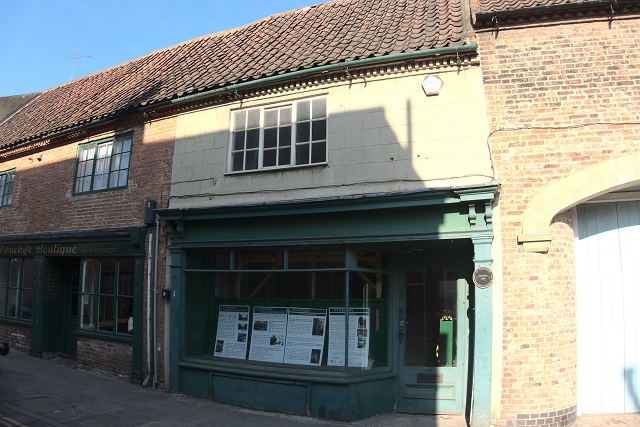 Photo: GBC
In Barton Upon Humber, the oldest building is 51 Fleetgate, dating all the way back to the 14th century. Currently open to the public, it is the oldest of its kind and well worth a visit. 51 Fleetgate is the best example of a medieval townhouse in Lincolnshire.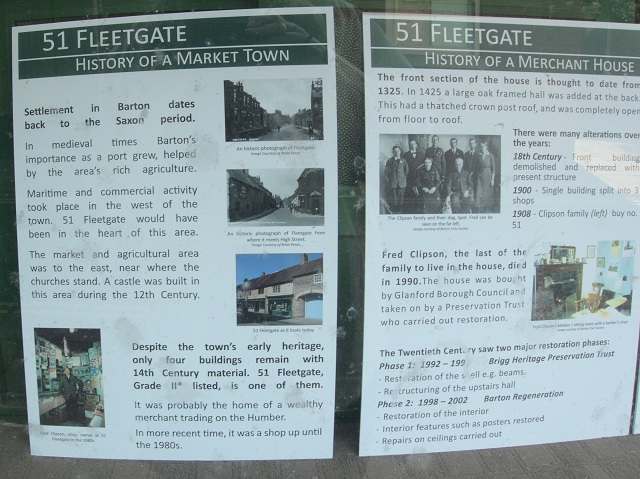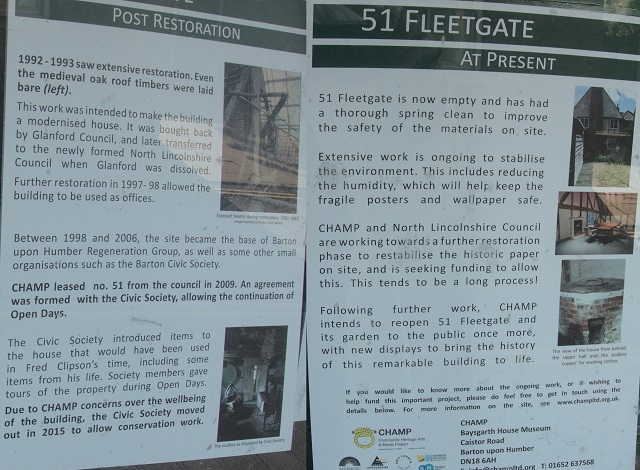 Photos: GBC
They have restored the building over the years, but the 19th century shopfront is still standing.
Barton-Upon-Humber is also home to a medieval manor, Tyrwhitt Hall. It dates back to the 15th century, with extensions and additions throughout the 17th and 18th centuries. It's not open for visiting but can be seen from the roadside and is a beautiful example of medieval architecture.
Baysgarth House is a local history museum for the area for those who want to learn more about the background of the town.
Viking Way
For long-distance runners and walkers, Barton-Upon-Humber also has the beginning of the Viking Way. It's a trail spanning a whopping 147 miles between the Humber Bridge, and Oakham further south in Rutland. It's been open since 1976, and takes you right down Lincolnshire, into Leicestershire before going back into Lincolnshire. Part of the route goes through an area occupied by Vikings, giving the long distance walk its name.
Visitor points along the way include the Humber Bridge at the start, South Ferriby–a historic village, Bardney Abbey, Lincoln Cathedral, and the Rutland Water.
Humber Bridge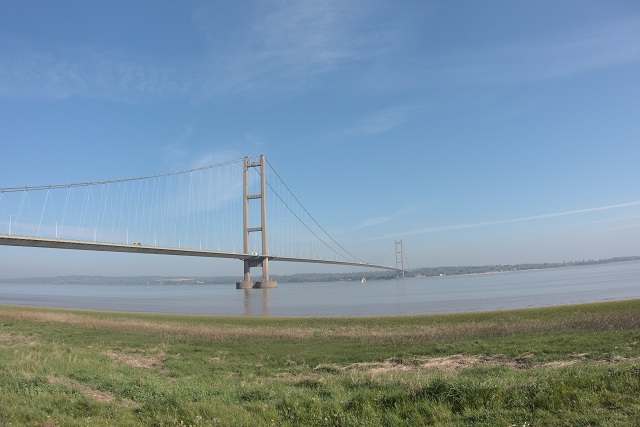 Photo: GBC
The Humber Bridge is 2.22km long and opened in 1981. Upon completion, it held the world record for being the longest suspension bridge in the world. It's now the 12th longest, as the last 40 years have seen the construction of many other suspension bridges across the world. The bridge goes across the River Humber, connecting Hull with Barton-Upon-Humber. It sees over 120,000 vehicles cross it on a weekly basis.
Places to Visit
If you're looking to take a trip to Barton-Upon-Humber, there are some attractions you must visit:
Water's Edge Visitor Centre–110 acres of country park near the Humber Bridge that is the perfect spot for a family day out. There are animals to visit, outdoor play areas for the children, and a café for lunch. It's completely free too!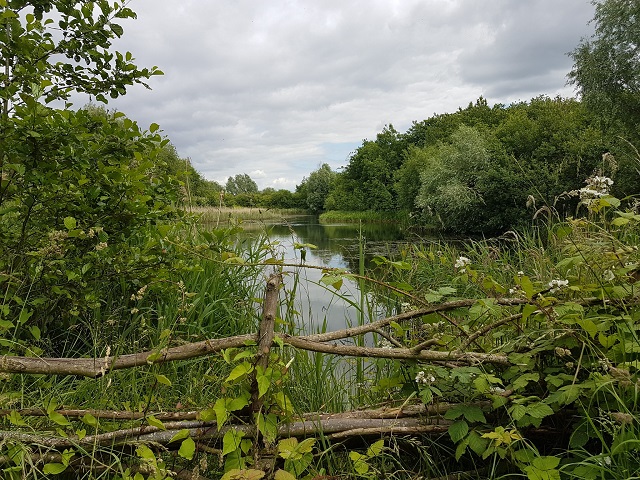 Photo: courtesy Waters' Edge Visitor Centre & Country Park
The Ropewalk–This is a place for live music, cinema and the theatre. There's also four galleries and a sculpture garden for art lovers.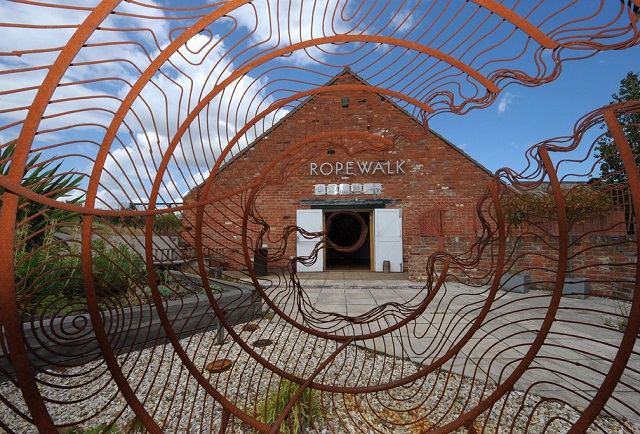 Photo: Courtesy http://www.the-ropewalk.co.uk/
Far Ings Nature Reserve–A beautiful area excellent for spotting migrating birds. The reedbeds and pits have flourished along the Humber bank where the old tile and cement industry was booming from 1850 to 1959. Now rich with wildlife and birds for a fun family visit. More info click here.
Photo: David Wright / Lake at RSPB Far Ings Bird Sanctuary / CC BY-SA 2.0
Wilderspin National School Museum – A former school that opened in 1844 and ran until 1978. It's been open as a museum since 2009 and features old replica Victorian classrooms and schoolrooms. An excellent visit for those history lovers.
Barton-upon-Humber is the place to go if you're looking to be taken back to another era. The terraced brick houses are reminiscent of Victorian England, and it's got relics that are even older. There's plenty to do for a visit, and fun activities that will delight the whole family.