Coll is one of Scotland's smaller inhabited islands with less than 200 residents, only thirteen miles long and a maximum of three miles across. It's an unspoiled island with plenty of rugged coastline and sandy beaches waiting to be explored. If you're taking an island-hopping trip around the Hebrides, it's not one to be missed.
One of the best attractions of Coll, that sets it apart from other islands in Scotland, is its dark sky status, making it one of the best places in the UK to see the stars and Milky Way.
For Such a Small Island, There's No End to the Beaches
The entire island comprises machairs (Gaelic for flat plains and fields), and has a coastline filled with golden Hebridean beaches, from cosy secluded coves to large dunes. Thanks to its remote location, you won't be battling with the rest of Britain to get a prime spot at any beach on Coll. There are 21 beaches on the island, and you're more likely to run into a sheep or a cow than a person.
Coll is known for the machairs that makes up its land, especially around the coast. While I translated machair before as a flat plain, it's actually a little more than that. It refers to a patch of land with shell sand, and grassland, and the sort of flora and fauna that grow around it are utterly unique.
Coastal Wildlife
The wildlife on Coll feels unmatched by such a small island. On your strolls around the island, you'll find seals. There's plenty of pony's, sheep, and cows thanks to the farmers of Coll. In the waters, you've also got the opportunity to spot a whale, basking shark, or a dolphin if nature allows. The water surrounding Coll is popular for a good deal of wildlife, so keep your eyes peeled.
There's an RSPB Nature Reserve on the island giving the option to see plenty of nesting birds like the corncrake, lapwings, geese, cuckoo, redwings, redshanks, and guillemots. So, take a pair of binoculars!
Breachacha Castle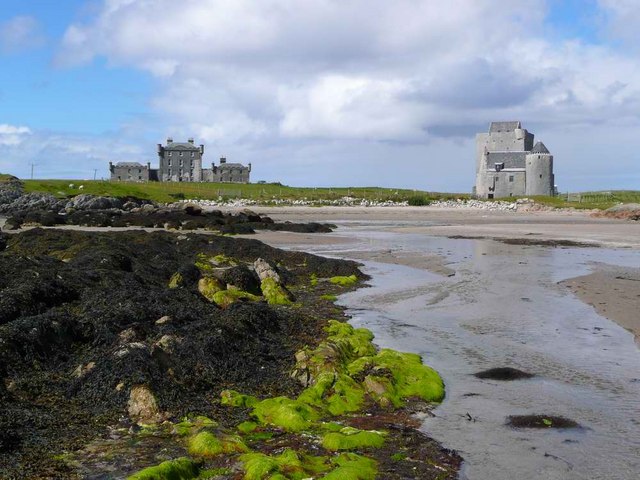 The Breachacha Castles Old (14th century) on the right, new (18th century) on the left.
Photo by Gordon Brown/ CC BY-SA 2.0
One of the most domineering structures on Coll is the Breachacha Castle, located towards the south of the island and beside the wide, picturesque Crossapol Bay. They originally built the listed building in the 15th century as a tower house. The Macleans of Coll, the family who were given the island in 1431, used it as a stronghold.
The castle is made up of two buildings. The old 15th century Breachacha Castle, and the 'new' Breachacha Castle, which was built in 1750. It was only occupied for approximately 100 years before it fell into ruin. They are both beautiful, but in need of a bit of TLC to bring them back to a point before they could be shown to the public.
Dark Skies of Coll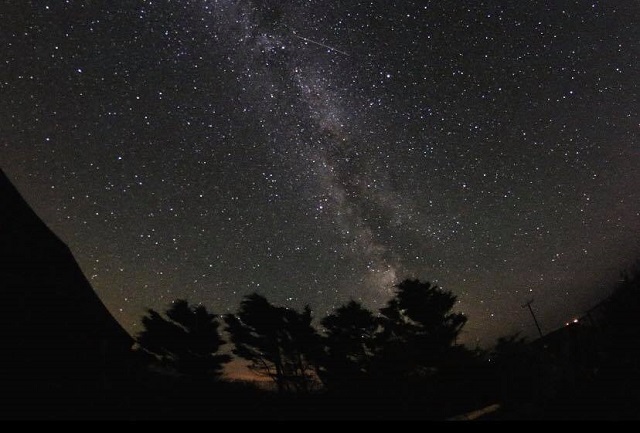 Picture: Courtesy Coll Dark Sky Community
In 2013, the International Dark-Sky Association designated Coll as a 'dark sky' community, making it the second place in Scotland (and the 22nd place worldwide) to be given this identification.
That means that at night time, Coll is one of the best places in Scotland to get a view of the unspoiled night sky, removing light pollution from the equation. So, you can experience the incredible expanse of the Milky Way above. Naturally, this is weather permitting, as clouds will spoil the view.
The dark skies are best experienced from August-April, as during the Summer Coll experiences less darkness because of being further north.
How To Get There
For people who want to make a trip to Coll, there are two ways to get there, by ferry or by plane.
To get there from the ferry, you can sail from Oban, or go from one of the other Scottish Islands like Tiree or Barra. The Caledonian MacBrayne ferry sails from Oban daily and takes around 2 hours and 45 minutes. There's one sailing a week from Barra, which is 4 hours and 5 minutes, and five sailings every week from Tiree, which takes around 55 minutes.
In the winter, ferry sailings are less, so it's always recommended to look up the timetable so you don't get stuck. Meanwhile, at the height of summer, there are two sailings from Oban every day.
For those getting there by plane, Hebridean Air Services operate the flights, and it leaves from Oban.
When visiting Coll, it's important to highlight that this is a remote island and sometimes travel disruptions occur because of the weather, so when you visit a place so far away it's important to remember your travel plans might not always run to schedule. It's always recommended to monitor the current ferry or flight status.
Staying in Coll
There are plenty of places to stay in Coll, whether you want a hotel, a B&B, camping sites, self-catering spots, and a bunkhouse. You can do a day trip here and see as much as you can before getting the ferry out, but it's worth staying so you can see the dark skies they advertise.
Coll also has a post office and shop for food shops, but if possible try to bring some food with you on the ferry so you're not leaving yourself with little. There are bars and restaurants, so you can go out for dinner and experience some local Scottish cuisine.
Wrapping Up
To summarise, Coll is worth a visit if you're taking a trip exploring Scottish islands, especially if you're doing an island-hopping trip around the Hebrides. The beaches are unmatched, and you won't be stuck on a busy beach with thousands of other people. On a sunny day even, it's likely you could have the place to yourself.
There are plenty of options for food and accommodation. So, why not take a trip to explore Coll's coastline?
Cover image: Toby Thurston, Public domain, via Wikimedia Commons