A Scottish coastal town sitting at the tip-top of the UK coast, Banff is renowned for its clean sandy beaches, centuries-old architecture, and deep historic Aberdeenshire roots dating back to when barbarians roamed the British Isles.
A town dripping in history and tradition, Banff is where you can learn about and appreciate some of the events that helped shape northeast Scotland as we know it.
Oh, and the golf courses are pretty spectacular too.
Curiosity peaked? Then read on and discover a whole lot more.
A Peek into the Past
859 years ago, Banff was the county town of what was then known as the County of Banffshire.
As one of the Pictish heartlands, the Banffshire region was constantly subjected to bloody Viking raids, with Scots Kings and Scandinavian Jarls battling it out in one Game-of-Thrones-style skirmish after the other (minus the dragons).
So, to repel the fury of the Northmen, Banff's first castle was established in the 12th century to protect the harbour. It also served as a residence for Malcolm IV and other kings in later years.
You may think the castle would've completely dissappeared by now, but some remains of the walls still stand to this day. So, if you're a history enthusiast, you'll still get to enjoy feasting your eyes on the remnants of an age very far removed from our own.
Source:
The Time Travel Artist
18th-century architecture
Let's wind the clock forward a few centuries, shall we? When you visit Banff, you'll notice that although the town looks old, the buildings are of a more modern era than when Picts and Vikings ruled the roost.
That's because most of its beautiful architecture dates back to the 1700s when Banff was both a resort town and fashionable hotspot for olden-day holiday goers to the UK coast.
In fact, one of Banff's claims to fame is that it has some of the best-preserved historical buildings you'll find anywhere in Scotland.
Duff House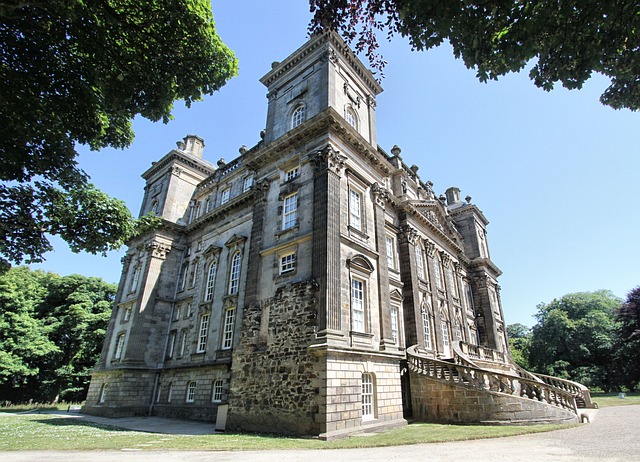 Duff House, an exquisite 18th-century mansion, is the most popular of these historic structures. You can experience it in all its glory in its present form – an art gallery featuring works from the National Gallery of Scotland (history and art really do go hand-in-hand, don't they?).
Also, it's surrounded by gorgeous parkland where you can play a round of golf (more on that later). Or simply sit, eat lunch, and discuss with your loved ones which piece of art you found most awe-inspiring!
More History
Another distinct architectural piece you'll see when you're out and about is the octagonal Town Steeple, completed in 1766.
And have you ever heard of James MacPherson, the 17th-century Scottish poet and outlaw? "Aye!" you say? Well, head to the Biggar Fountain on Low Street, and you can see the exact spot where he stood defiantly playing his fiddle for the final time…before he was hung for piracy.
While you're on Low Street, you really should take a gander at the pre-reformation Market Cross, which stands on the Plain Stones in front of the Town House. It's said that it was made in around 1627, but the actual date is a bit of a mystery.
And hey, if all that isn't enough history for one trip, you can check out Banff Museum on the High Street for local history and geology exhibits. Quick Banff Museum fact: It was donated to the town by world-famous industrialist Andrew Carnegie.
More awesome attractions
As fascinating as Banff's history is, there are other things to do to keep you and your loved ones thoroughly entertained during your stay.
Banff Beach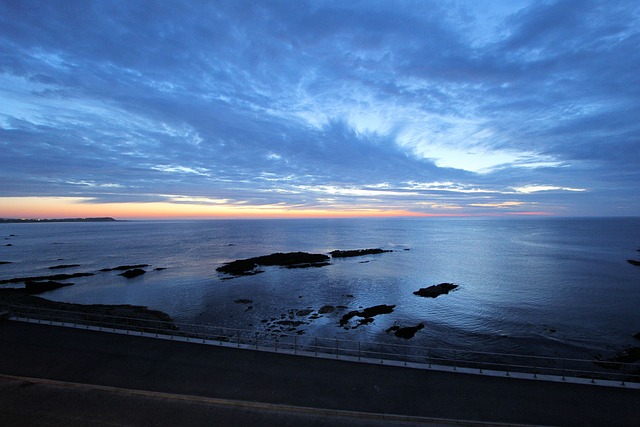 If you've ever been to Aberdeenshire, you'll know how truly spectacular some of its beaches are. Banff Beach is precisely that – clean, with brown-sugar coloured sand and glorious views across the mouth of the River Deveron to the neighbouring harbour town, Macduff.
The perfect place to relax and recline on a warm summer's day and take in all the natural beauty this side of the UK coast offers.
Golf
It's not easy to talk about beautiful Scottish coastal towns without mentioning Scotland's most famous sporting export – Golf. Banff has many golf courses. 6 in total.
All of them are incredibly beautiful.
Here's an idea: Grab your woods, your irons, and your bundle of assorted-coloured golf gloves, and get yourself over to Banff's most popular club – Duff House Royal Golf Course (if you read this whole post, then you should already know about Duff House from earlier!).
It's a championship course that almost makes the top 50 in Scotland. And it hosted the Scottish Senior Men's Open in 2021. If you're going to play, why not go where the best go?
Cover photo: Scottish Rural Network https://www.flickr.com/photos/snrn/