Orkney is an archipelago of islands sitting just north of the Scottish mainland. Despite being so close to Scotland, they are steeped in their own culture and history. There are Viking ruins dating back centuries, and they've even been under Norwegian rule before.
The islands were instrumental during both World Wars, and their waters still contain the evidence. The coastline stretches for over 500 miles, and is shaped by the tide. There are rolling sandy beaches, lush green fields, and tall stacks that jut proudly out of the water.
Ultimately, the islands are a perfect holiday getaway, but I'd recommend if you want to see it all you'll need to visit for at least a week. Orkney is packed with things to do.
Archaeology
Orkney's coastline is marked by various archaeological features dating back to Norse rule. There are standing stones, ancient Viking cairns, and one of the best preserved Neolithic villages in Europe, all resting quietly on Orkney's shores.
Skara Brae
Nestled along a substantial white beach is the historic town of Skara Brae. This Neolithic site was discovered during a storm in 1850, and is now the best example of working life in the Neolithic era. There are plenty of incredible discoveries in the village, including an early example of a sewer system with toilets and drains available in each of the stone houses which carried waste to the ocean.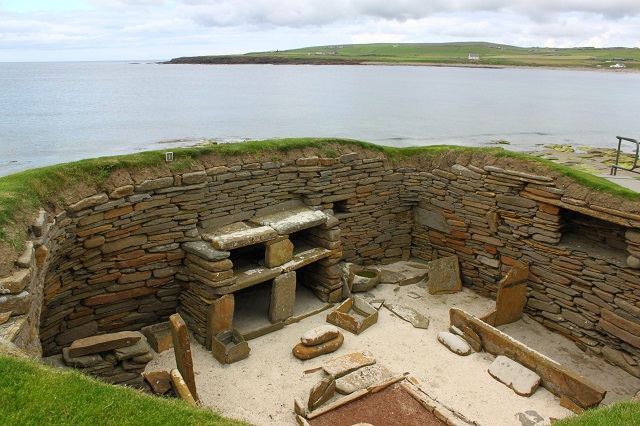 A UNESCO World Heritage Site, Skara Brae is older than the Pyramids of Giza and Stonehenge. Houses comprised a central room with a stone hearth, and stone-built pieces of furniture like cupboards and seats. There's evidence of human habitation going back to before 2500BC. There are theories the village was abandoned during a terrible storm, as there is some evidence to support the idea the villagers left suddenly–including broken jewellery and prized objects being left behind. However, since it was long before recorded history, there is no way for us to tell.
It sits right beside the turbulent sea today, but thousands of years ago, Skara Brae would have been further inland, and there's evidence there may have been a freshwater lagoon nearby. People assume some of Skara Brae's structures have now been washed into the sea.
There are other well preserved Neolithic sites on Orkney too, such as Rinyo on the Isle of Rousay, and the Knap of Howar on Papa Westray. But Skara Brae is the most extensive and worth a visit.
Connected to Skara Brae via a low road is an ancient burial cairn called Maeshowe, which overlooks the coast. Sitting on a flat plain, this impressive structure is placed so that the setting sun streams directly through the long tunnel at the entrance, illuminating the stones at the back wall in the few days surrounding the winter solstice. A Barnhouse stone around 700 metres away is also in exact alignment with the entrance to Maeshowe, showing some significance that has been lost to history.
Standing Stones of Stenness
Sitting just off the coastline in Orkney is one of the most impressive stone circles in the Scotland. It's been a site connected to spirituality and tradition going back to the 18th century–although the stones have been standing much longer than that. People believe the stones have been there for 5,400 years.
The interior of the stones was a large hearth, and there are paved paths and evidence of a second hearth nearby. Excavations at the site have revealed pottery and animal bones, meaning people may have cooked and eaten at this historic site.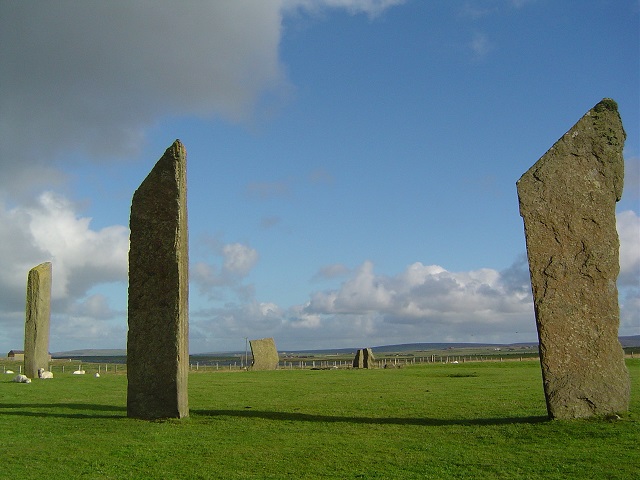 Historians originally thought they might relate to Norse gods, and they nicknamed one stone the 'Odin stone' as it was pierced with a hole. Couples in Orkney would hold hands through the gap to affirm their love. They made oaths through the stone, known as taking the 'vow of Odin'.
Farm owner Captain W. Mackay destroyed the Odin stone in 1814 as he was fed up with trespassers on his land coming to use the stones in their rituals.
Rugged Coastline and Sandy Beaches
Orkney's impressive coast is made up of domineering cliffs and beautiful sandy beaches. If you want to see as many beaches as possible, Stronsay is your best bet. On this island, there's several beaches just minutes away from each other like St Catherine's Bay, Sands of Rothiesholm, and Mill Bay.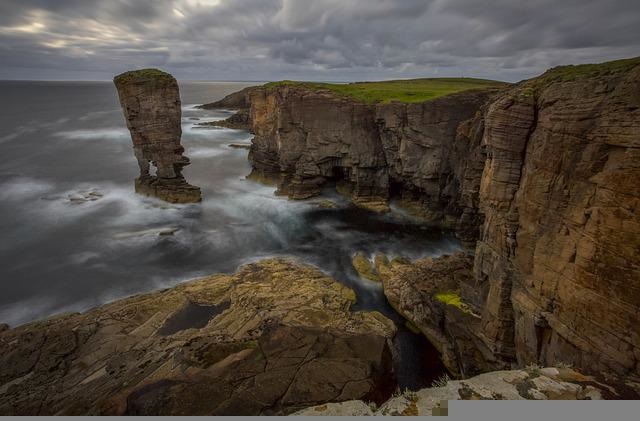 Alternatively, Westray is a spot you can be educated and visit the beach at the same time. On the Links of Noltland the beach also has Neolithic settlements going back 3000 years, protected by the sand. Tresness beach isn't to be missed. This thin white sandy beach protects a sandy bay from the North Sea.
The World Wars still mark much of Orkney's coastline, with machine-gun posts and anti-aircraft batteries placed throughout.
Old Man of Hoy
One of the most recognisable pieces of Orkneys' coastline is the Old Man of Hoy. This iconic sea stack is 137 metres tall, and one of the tallest in the UK. It's been climbed by several mountaineers, and is no easy feat.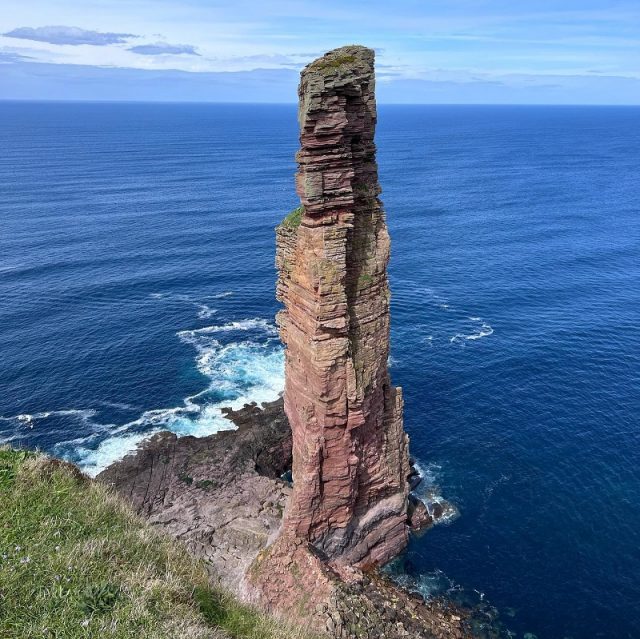 If you're on Orkney and want to visit the stack, there's a track heading up from Rackwick Bay. Or you can walk up to the summit of St John's head, the highest vertical sea cliff in the UK, standing at an impressive (and terrifying) 335 metres.
Bay of Skaill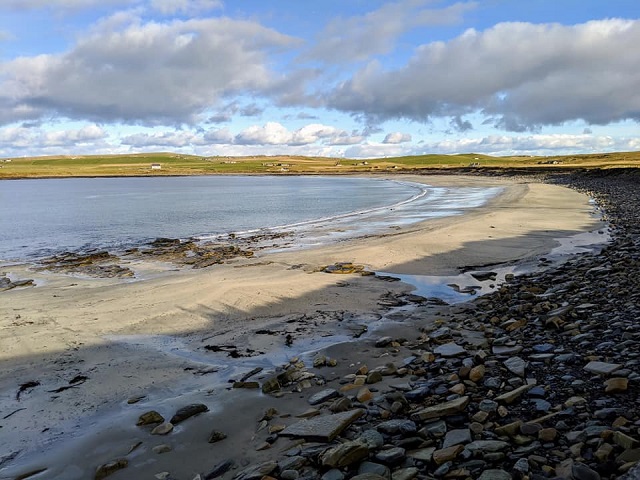 Beside Skara Brae lies an impressive white sandy beach at the Bay of Skaill. When the tide is out, the sands stretch on for what feels like forever. It's a wonderful place to stop for picnics–although not on a windy day! Otherwise, the beach is perfect for walking along. In 1858, a Viking hoard was discovered on the beach, with over a hundred items being found in the ground.
The World Wars
Orkney's strategical point in Scotland made it a hotspot during both World Wars in the twentieth century.
Scapa Flow
Scapa Flow is a unique point, being a deep-water isthmus protected by surrounding islands and it was the primary naval base of the UK during the First and Second World Wars, before its eventual closer in 1956.
In World War One, after the Germans were defeated, 74 German ships were captured in Scapa Flow and kept there. They were to wait until an outcome from the Treaty of Versailles, at which point the UK would have taken appropriate action, whether to let them go or seize the ships. However, German Admiral Ludwig von Reuter stopped the ships from falling into British hands and ordered his men to sink their ships deliberately.
They prepared for months, laying explosives in certain areas of the boats. They threw keys and tools overboard so valves would be forced to remain open. In 1919, the ships were sunk and nine German sailors died when the British forces opened fire on the troops as they realised what was happening.
Many of the ships were raised in between the wars because of their awkward placements, making it difficult for other ships to navigate through the busy sound.

To protect the British Fleet during the early part of WW2 ships were deliberately sunk in the eastern approaches to Scapa Flow to prevent German U-Boats from getting amongst the ships at anchor –
Photo: John Haslam, CC BY 2.0, via Wikimedia Commons
In World War Two, Scapa Flow was used as another primary naval base. It was the site of a submarine attack in 1939, when a German U-47 sank two battleships anchored in the bay. Then a few days later, Luftwaffe planes raided Scapa Flow, damaging ships. As a result, Scapa Flow was quickly armed with mines, blockships and booms, with anti-aircraft guns pointed up at the air. Italian prisoners-of-war were forced to build causeways to block the entrances to the east.
Nowadays, Scapa Flow sits as an impressive war site. The shipwrecks are visible, and it's a beauty to behold. It's also an excellent place to reflect on the tragedy of war, and the lives lost. There is a visitors' centre, and a whisky distillery both sitting on the shores of Scapa Flow.
Diving Opportunities
The unique waters around Orkney are perfect for going diving. Sea-divers can still visit seven of the sunken German ship wreckages from World War One today. Scuba divers have to get a permit, but once they have this, they can dive and investigate the many shipwrecks hidden underneath the sea in Orkney.
Down there are the options to see German battleships and light cruisers, as well as UK wreckages like the Royal Oak and the Vanguard, that are now considered war graves. Although only divers from the British army may visit the UK wrecks.
How to Get There
Orkney is more accessible than its northern counterpart, Shetland. There are a few different ways of getting there, but as it's an island, all will require either flying or sailing.
Plane
Loganair operates the flight service to Orkney, with direct flights from Glasgow, Edinburgh, Aberdeen, and Inverness. So it's easy to get there from any Scottish airport. If you're wanting to visit Shetland and Orkney, it's also possible to get a direct flight from Shetland to Orkney and takes just 35 minutes.
Flights from Glasgow and Edinburgh are approximately an hour long, while Aberdeen flights only take 50 minutes, and Inverness flights are around 45 minutes. So it's a quick trip in the air before you'll be landing in Kirkwall.
Ferry
There are multiple ferry crossing options for getting to Orkney. It just depends where you're planning to get in to. NorthLink Ferries runs a service between Aberdeen and Kirkwall, leaving Aberdeen at around 5pm and getting into Kirkwall at 11pm. The same ferry continues an onward journey to Shetland overnight. Coming from Kirkwall to Aberdeen has a departure time from Orkney at 11.45pm and arrives in at Aberdeen the next morning at around 7am.
There are cabins on the ferry, and pods people can sleep in if they don't wish to stay in a cabin.
A shorter 90-minute ferry runs from Scrabster to Stromness, the very northern tip of Scotland to Orkney's most southerly point. Departure times vary depending on the season, but this makes Orkney a more accessible visit for those who hate sailing and flying.
To sum up, Orkney is a historic landscape well worth visiting. There's plenty to do on the islands. Nature lovers can spot puffins and nesting birds on the cliffs, as well as marvel at the seals who come to Orkney's shores for breeding and raising their young.
Meanwhile, history is in abundance, with the never-ending Neolithic settlements, cairns, and standing stones to visit around the islands. War historians will enjoy visiting Scapa Flow and seeing the epic shipwrecks.
Beach hoppers have plenty to do too, Orkney is a favoured spot for beaches and there's too many to count. It's the perfect getaway and can be fitted into a large trip to see both the northern isles of Scotland.
Credit Cover picture: Richard Mechen