Arran is another of Scotland's beautiful West Coast islands. It's one of the larger islands, stretching 20 miles and sitting at an average of 9 miles wide. While you can take a day trip to Arran and there's a regular ferry service, it's better to take at least a couple of days to truly enjoy the entire island.
If you're doing a trip visiting the Scottish Islands, Arran is certainly not to be missed. It's not a hidden gem, as plenty of people know how incredible this island is and it's a popular choice for tourists, but it's worth it.
Sprawling Sandy Beaches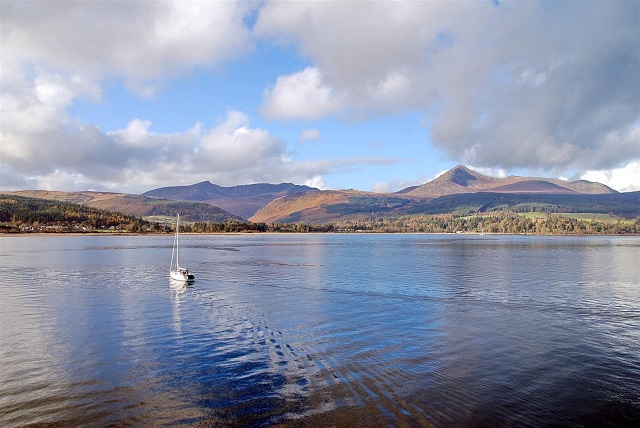 Much like the other islands of Scotland, Arran has some beautiful sandy beaches that could rival any Caribbean Island. The first beach you'll visit off the ferry is Brodick Bay, a sprawling and tranquil bay surrounded by forests and offering views to Goatfell, Arran's mountain.
But it's not the only one. If you delve deeper into Arran's scenery, you'll find Lamlash beach which gives views across to Holy Isle – a smaller two mile island off Arran, you can visit. It's uninhabited, but you can take a day trip.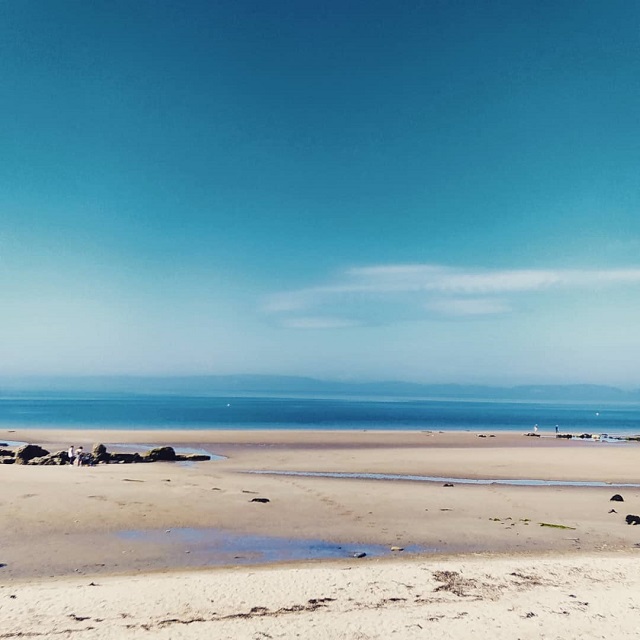 On the west coast of Arran is Blackwaterfoot Beach, a tranquil beach near a small village, and it's near to the remains of an Iron Age fort, or some caves perfect for exploring.
Further south is Whiting Bay. It's around a mile long and you'll be unlikely to be battling hordes of tourists to get a brilliant spot on this beach. Given it's far south, you'll likely only run into a couple of people. The waters are warm and shallow, making it perfect for paddling.
The options are endless. We haven't even listed half of the beaches you can check out on Arran, so if you go visiting, make sure you take a walk around some of these beautiful sands.
Goatfell
Most people who come to Arran are hikers who want to go up Goatfell. The mountain dominates most pictures of Arran and often has snow at the top of it. It stands at 874 metres high, meaning it misses out on being a Scottish munro by only five metres. But that doesn't mean it's not a satisfying hike.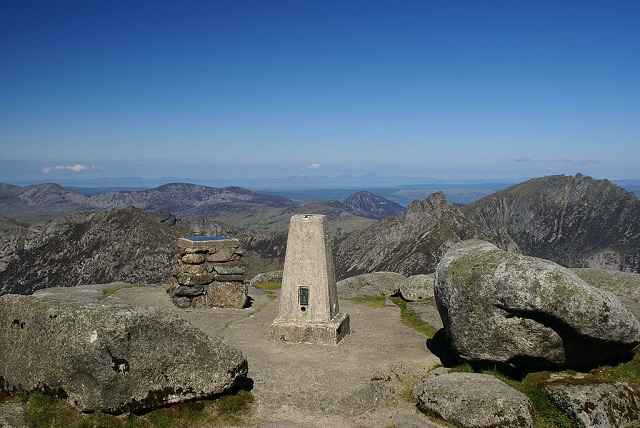 Photo: Summit view from Goat Fell, Isle of Arran. The Paps of Jura are visible in the distance.
Clydecoast, CC BY-SA 3.0, via Wikimedia Commons
There are a few different ways you can tackle Goatfell, but most people take the route from either the village of Corrie, or Brodick Castle. These are the most straightforward choices, so you shouldn't run into too much trouble making the 2-5 hour hike to the top.
If you're heading to Arran intending to climb Goatfell, make sure to take plenty of supplies, food and water, a fist aid kit, and use walking boots. Don't do it alone, as you should always have a buddy. It is one of the easier Scottish climbs, and once you're at the top, you'll get unrivalled views across Arran, to Bute, and mainland Scotland.
Lochranza Castle
This old castle sits on the northern tip of the island in Lochranza. There are some incredible sandy beaches here, and the ruined castle sits right on the coast. Owned by the MacSweens clan, it was built in the 13th century. Scottish folklore dictates that Robert the Bruce, an iconic Scottish figure, stayed in Lochranza in 1306 when he was trying to lay his claim to the Scottish throne.
It moved to the holdings of Robert II, who used it as a hunting lodge, and then changed hands a couple of times to the McDonald clan. Then the Marquess of Hamilton had it. In the 1650s, Oliver Cromwell lived there.
Finally, it came back to the Hamilton family, and in the 18th century, it fell into a state of disrepair and was abandoned. Finally, it came under Historic Scotland who have cared for the site for several decades. The ruined castle is nice to appreciate, but the better views are around the coast nearby.
Wildlife
The astounding wildlife that inhabits Arran and the surrounding waters is breathtaking. On the beaches, you'll be likely to come across seals, otters, golden eagles, and red squirrels. There are also red deer, all of Scotlands 'big five' animals. If you visit Lochranza, you could even see all five in one walk!
Arran is also home to kestrels, sparrow hawks, owls, gannets, and puffins, so it's an ideal location for the avid birdwatcher.
How To Get There
A standard car journey from Glasgow takes about 45 minutes, and it's 2 hours from Edinburgh. However, Arran is an island, so you'll need to drive to Ardrossan and get the ferry from there. Caledonian MacBrayne (CalMac) operates the ferry service between Ardrossan to Brodick, Arran and it takes around 55 minutes.
You can also get a ferry from Claonaig in Kintyre, to Lochranza at the north of the Isle of Arran and this journey only takes 30 minutes.
If you don't drive, and are relying on public transport, then there are bus links and train links to Glasgow from Ardrossan that take less than an hour. So, you can be out of the city and onto the remote island in a couple of hours.
Arran itself has public transport, or you can take your car. A car is recommended, because it's not a small island, so the best way to squeeze everything in is to drive.
Wrapping Up
Arran has plenty to see. There's a distillery to visit, and miles of coastline to discover. Whether it's one of their sandy beaches or a part of the rocky outcrop you explore, you'll encounter the bustling wildlife and see some unique flora and fauna.
If you're on an island tour of Scotland, Arran has to be at the top of the list, just a few hours from Glasgow and easily accessible by ferry. You won't run out of things to do on this small Scottish island. Take a trip across, and you won't regret it!
Cover Photo: Isle of Arran by Daniel Manastireanu