Flamborough is a historic village on the Yorkshire coast, with plenty to see if you like wildlife and nature.
Originally, Flamborough was a tiny village, and has the remains of a castle and medieval manor house in the boundaries. In 1823, it was recorded as a fishing village with ancient remains. The population was made up primarily of fishermen, although there were also farmers, blacksmiths, butchers, and carpenters in the village and two public houses.
St Oswald's Church stood proudly in the centre and continues to be a listed building today. Nowadays, Flamborough is known as a holiday destination and has holiday camps and a caravan park for tourists. There's also a large fire festival held on New Year's Eve.
Flamborough Head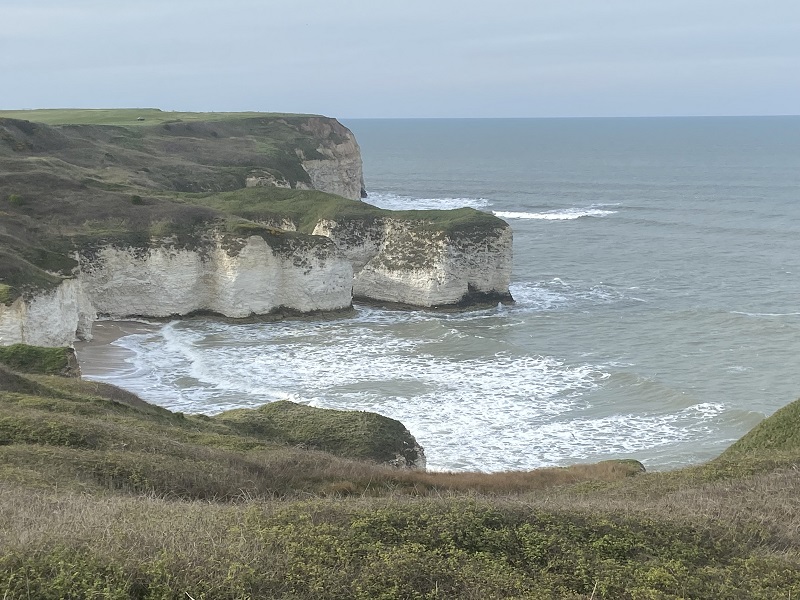 Perched on the easternmost point of Yorkshire, Flamborough Head is a stunning natural wonder that has captivated visitors for centuries. This rugged headland boasts towering cliffs, hidden coves, and a rich diversity of plant and animal life, making it a must-visit destination for anyone seeking to explore Yorkshire's spectacular coastline.
Flamborough Head makes up 8km of the Yorkshire coast, stretching from Filey and Bridlington. The cliffs are known for their white appearance because they're made from chalk. There are also two lighthouses, one dating from 1669 and another built in 1806. It's a Special Area of Conservation, and a Site of Special Scientific Interest, meaning it has geological and biological significance.
Around 200,000 seabirds nest on the headland every year, and there are nature reserves dotted along the coastline with viewpoints and visitors centres.
In 1779, a battle was fought off the coastline as part of the American Revolutionary War. The Battle of Flamborough Head took place on 23 September, and US ships the USS Bonhomme Richard, Pallas, and USS Alliance captured a couple of British Royal Navy ships, the HMS Serapis, and Countess of Scarborough.
The nearby beach and headland have been featured in TV shows and movies based in the UK.
Danes Dyke Nature Reserve
This historic nature reserve is full of wildlife and has a unique environment. Danes Dyke is named for the ancient Roman wall that runs along the entire reserve for 4km on the Flamborough Headland. It had a bank with a flat top, and a ditch facing the west. The dyke itself was made from earth, turf, and chalk rubble.
The theory remains that it was originally built to be defensive, it would have acted as a coastal barrier for the Romans. Danes Dyke is recorded as a Scheduled Ancient Monument of national importance.
The reserve is full of woodland, including exotic trees like the monkey puzzle that were brought here during the Victorian era. But there are also ash, elm, lime, beech, and sycamore trees to be found along the plenty of woodland trails.
Flamborough Beach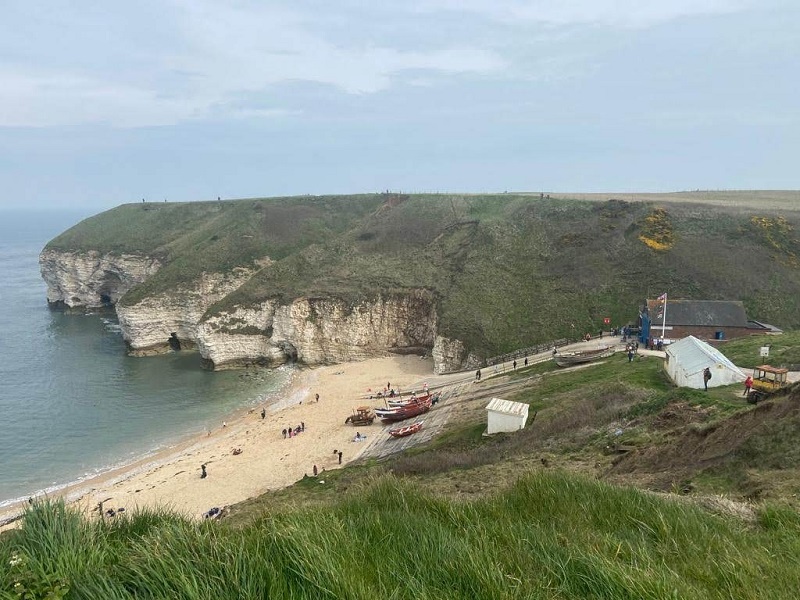 Flamborough Beach is enclosed by a tranquil bay flanked by domineering and dramatic white cliffs featuring chalk caves and arches. The beach itself is called North Landing, and is a mixture of sand and pebbles.
If you're interested, you can hunt in the many rockpools for marine wildlife, or use the beach for sunbathing or snorkelling. It's an excellent spot for seeing plenty of birds that nest on the headland.
This golden stretch is perfect for walking, and if you're spending some time in Flamborough it's worth a stop for a picnic.
Bempton Cliffs and Nature Reserve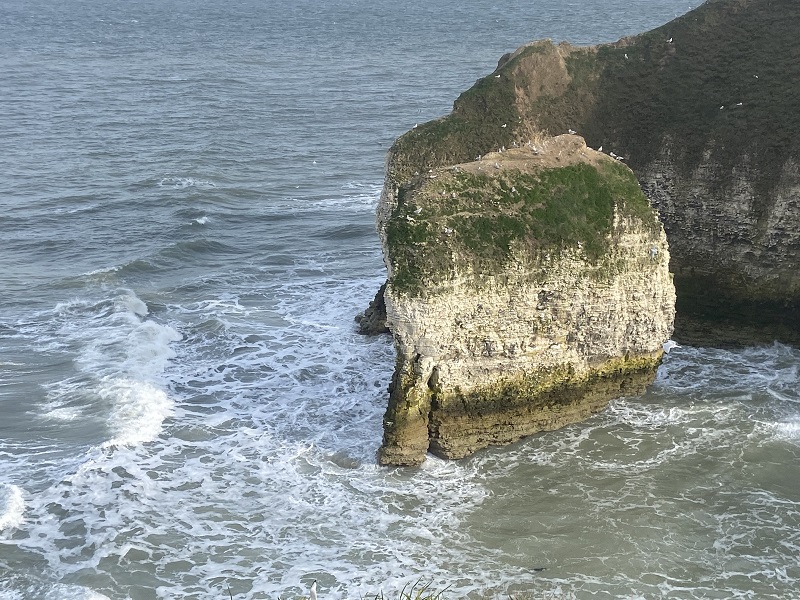 The Bempton Cliffs house one of the UK's most popular nature reserves, being the only place on the mainland you can see a gannet colony nesting. It's the most accessible seabird nesting site in the UK, many others being located on hard to reach islands.
Birds migrate here for the summer between March and October to lay eggs and raise their chicks. Birdwatchers can spot puffins, guillemots, razorbills, herring gulls, fulmars, shags, and kittiwakes all nesting in burrows or on the sheer cliff faces. It's also a great place for seeing gannets, a majestic seabird that's the largest in the UK.
The reserve has six viewpoints, giving iconic views of the birds along the stunning coastline. There's also a nearby Seabird Centre, which gives plenty of information about the nearby birds.
Visitors can walk along the cliffs and brace the wind, getting wonderful views of the dramatic coastline before warming up in the café located in the Seabird Centre.
Get Close to Nature at Flamborough
Flamborough is a beautiful Yorkshire village with plenty to see and do. If you're a nature lover, you'll enjoy spending a couple of days around here exploring the headland and multiple nature reserves.
The village itself is historic , with plenty of old buildings and a pub for you to enjoy the classic British pint. You can also enjoy the St Oswald's Church, a perfect example of British religious architecture.
Photos: GBC