Cayton Bay is a quiet hamlet located between popular seaside resorts, Scarborough and Filey. The beach is large and quiet, meaning it's the perfect place to go to get away from it all. It could be a good place to settle for a couple of days, or to use as a base to visit the busier places up the coast. If you like beach holidays without the crowds, Cayton Bay is the place for you.
The hamlet itself has some interesting roots. In World War One, they sent 45 men to fight, and in World War Two it was 60. Every single man came back home after the wars, and only one had a serious injury before being spared by a German Officer.
There are defences lined along the beach at Cayton Bay from the Second World War, including pillboxes and a section post. Unfortunately, some of these have been lost because of the ongoing coastal erosion the entire coastline suffers from.
An Unspoiled Beach
The beach at Cayton Bay has a wide expanse of sand and is a popular place for surfers, since the bay has harsh waves from the North Sea. It has one of the longest established surf schools, opening in 1989.
The cliffs nearby are fun to hunt for fossils, after being formed in the Jurassic period 150 million years ago, and plenty of birds call them their home too during the summer months. Bring your binoculars!
Knipe Point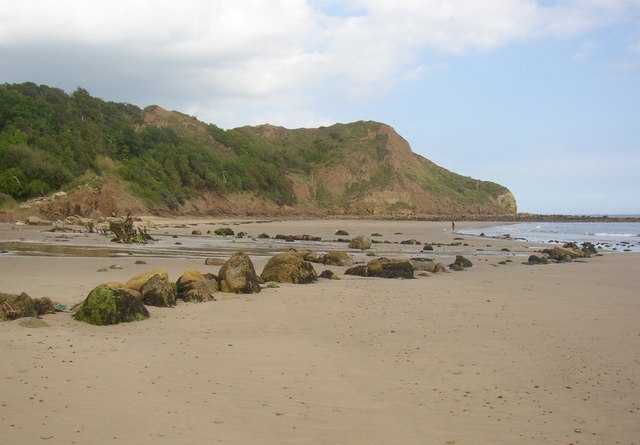 Humphrey Bolton, CC BY-SA 2.0, via Wikimedia Commons
Knipe Point is a rocky headland that hugs the beach at Cayton Bay. It offers stunning views of the beach and goes out into the sea.
There was a Trade Union holiday came there in 1933, the first in the UK. It could house 252 visitors and had a dining hall, recreation rooms, and a theatre. There were also tennis courts and bowling greens. In the Second World War, it became a place for evacuated children to live before closing in the 1980s. It's now a private housing estate.
In 2008, some homes were destroyed after a landslide after a period of heavy rain. The homes had to be full demolished after the landslip rendered them inhabitable because of their proximity to the new cliff edge. Tons of earth fell down the cliff side after water movement saw the soft clay cliffs become unstable.
The National Trust has designated the area as a Site of Special Scientific Interest.
Flamingo Land
Near to Cayton Bay, further inland, lies Yorkshires premier theme park Flamingo Land Resort. It features thrilling theme park rides and an award-winning zoo. They also run plenty of family-friendly events throughout the year.
Source: Youtube Flamingo Land Resort
There are a range of rides from mellow children's play areas to exhilarating roller coasters. The entire family will be able to enjoy a day at this theme park, since they cater to all thrill levels. Adrenaline junkies can check out Sik, a new roller coaster for 2022 with ten inversions, while people looking for something softer, can go on the Dino Roller, a kids roller coaster. There's also a haunted mansion, plenty of dinosaur -themed rides and a pirate live show.
The zoo features lions, tigers, rhinos, and a range of reptiles and amphibians. So, animal lovers will get their chance to see and marvel at the various wonders.
It's only a 40-minute drive from Cayton Bay and worth a visit if you're looking for a different day out that will entertain the entire family.
A Quiet Paradise
Cayton Bay is a perfect escape, located centrally between two Yorkshire resort towns. It's an excellent place to lie low if you prefer peace and quiet. There are a couple of pubs and cafes, and the hamlet does house a large caravan park, so the beach may be busier in the summer, but it's still quieter than a few miles up the coast at Scarborough.
This quiet spot is unspoiled, and worth a quick visit if you're touring around Yorkshire.
Cover Photo: Annetta Ives