Buddon Ness to Aberdeen
Bordering the North Sea along the Scottish counties of Angus and southern Aberdeenshire, the Buddon Ness to peterhead coastal section consists of a rocky shore interspersed by occasional bays and several seaside towns. With a low population between Dundee and Aberdeen, the landscape has a rather rural and wild feel to it, with arable fields, deciduous woodland, and pockets of gorse bushes bordering the sea – all of which add to the impressive feel of the place.
The coastline is rather rugged, with small rocky headlands protruding between stony coves and inlets. Although these features are pronounced along almost the entire coastal stretch, they are most prevalent between Inverbervie and . Crawton Bay, Old Hall Bay and Braidon Bay are great examples of snug little coves that are located away from human activity – the only sounds you can hear for most of the time are of crashing waves and seabird colonies which perch upon the rocks. Along the entire coastal stretch, headlands and rocky promontories protrude out into the North Sea. The most predominant ones are arguably Lang Craig, Milton Ness and Scurdie Ness, with a lighthouse sitting on top of the latter that is used to guide ships into the port of Montrose.
However, large sandy bays also exist between Buddon Ness and Aberdeen. Lunan Bay is a quiet sandy bay located between Arbroath and Montrose; it is backed by sand dunes and is flanked by low cliffs on both its northern and southern ends. Red Castle, a crumbling ruin from the 12th Century, overlooks the bay, and was built to defend Scotland from Viking invaders. A great beach for paddlers and surfers, the beach is also fantastic for its wildlife – many species of birds can be spotted here [1]. Another significant beach is at Montrose Bay – stretching 8 km (5 miles) north from the town, this sandy bay is also backed by sand dunes, but also by golf courses (a common site in this part of Scotland) and a nature reserve [2].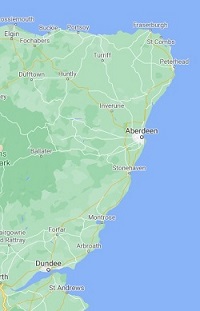 There are several small traditional Scottish towns along this coastal stretch, as well as the large town of Aberdeen. The fishing town of Arbroath is located around 25 km (15 miles) north-east of Dundee. It is famous for the Arbroath Smokie – haddock that has been smoke-cured, and continues to be produced in the town by small family-run businesses. An old harbour borders the North Sea, around which traditional townhouses add to the picturesque look to the town [3]. 20 km (12 miles) to the north sits the port town of Montrose, sandwiched between Montrose Bay and a large tidal lagoon named Montrose Basin. Another beautiful and historic town, Montrose contains a picturesque old town centre, as well as a museum and an art gallery [4]. Stonehaven is another beautiful seaside town, where old townhouses and fisherman's cottages overlook a stone-clad harbour filled with small fishing boats. Another part of the town overlooks Stonehaven Bay; this is where small Bed-and-Breakfast hotels, pubs and restaurants can be found.
The largest town on this coastal stretch, Aberdeen is known for its bustling port, a long sandy beach and its university. Even in this post-industrial age, cargo ships and ferries travel through the Aberdeen docklands regularly. A long esplanade stretches from Footdee to Old Aberdeen, overlooking the sandy beach. Footdee lies at the southern tip – consisting of traditional stone-clad terraced cottages, this beautiful former fishing village is a must-see if visiting the town [6]. The rest of the esplanade is bordered with a fun fair and a wide selection of restaurant chains, an art deco entertainment venue called the Beach Ballroom, and a long and wide golf course. To the north of the town centre, itself a bustling area of numerous retail stores and shopping outlets, stands the beautiful district of Old Aberdeen. This is where the University of Aberdeen is located – founded in 1495, this stone-clad campus contains many beautiful buildings, many of which are a few centuries old [7].
Aberdeen to Peterhead
The coastal landscape between Aberdeen and Petershead can be categorised into two halves – a long sandy beach characterises the southern portion, whereas the northern half consists almost solely of cliffs and rocky inlets.
A long, sandy beach extends 18km (11 miles) north from Aberdeen, ending at Forvie Nature Reserve, located between the villages of Newburgh and Collieston. Named Balmedie Beach, the sandy shoreline is great for walking along, and is backed by a wide and lengthy row of sand dunes covered in marram grass [8]. Although a portion of these dunes are part of Balmedie Country Park, much of the extensive dune system is used by numerous golf courses, which sprawl along the coastline between Aberdeen and Newburgh. The River Ythan estuary briefly interrupts the sand dunes – at the mouth of the estuary, the extensive sand flats provide a great habitat for seals, which are regularly spotted here [9]. The Forvie Nature Reserve is located to the north of the estuary – with almost 1,000 hectares (2,500 acres) of sand dunes, numerous bird species are attracted to this habitat, including eiders, terns, wildfowl and waders [10].
North of the River Ythan and through to Peterhead, the coastline is mainly characterised by rocky cliffs, including numerous rocky coves, small inlets and rugged headlands. Coves found along this coastal stretch include Broad Haven, Bruce's Haven and North Haven. The latter cove sits adjacent to an impressive natural rock formation called the Bullers of Buchan, where a sea cave has partially collapsed, forming a 30 metre (100 foot) deep chasm. However, a small section of the cave has not fallen in to the sea, resulting in a large natural arch formation. Next to the town of Boddam is the small island of Buchan Ness – linked to the mainland only during low tide, a white lighthouse stands on top of the isle, warning sailors of the dangerous rocky shoreline. The dilapidated remains of Slains Castle stand on top of the cliffs close to the town of Cruden Bay – constructed in 1597, Slains Castle is believed to be the setting for Bram Stoker's novel Dracula (along with Whitby Abbey in North Yorkshire).
A few traditional fishing villages are sprinkled along the coastline – these include Collieston, Cruden Bay and Boddam. The port town of Peterhead marks the northern extent of this coastal stretch – this bustling fishing port arches around a natural bay, with docks on the northern side, and a marina lining the southern section [11].
References
[1] https://www.visitscotland.com/info/towns-villages/lunan-bay-p315721
[2] http://www.walkscotland.com/route4.htm
[3] https://www.visitscotland.com/info/towns-villages/arbroath-p241591
[4] https://www.visitscotland.com/info/towns-villages/montrose-p244861
[5] https://www.visitscotland.com/info/towns-villages/stonehaven-p237801
[6] https://www.adventuresaroundscotland.com/scotland-travel-blog/footdee
[8] https://www.visitscotland.com/info/towns-villages/balmedie-beach-p315451
[9] https://www.visitabdn.com/listing/newburgh-beach
[10] https://www.nature.scot/enjoying-outdoors/scotlands-national-nature-reserves/forvie-national-nature-reserve
[11] https://www.visitabdn.com/listing/slains-castle