Balmedie is a growing Aberdeenshire village in eastern Scotland, famed for its golden brown beach with dunes that stretch for miles along the UK coast.
With a population of just 2,534 – a large proportion of whom are retirees over the age of 45, you may think that Balmedie isn't a whole lot different from many of the other pretty little municipalities that pepper the British coastline.
So, what could this Scottish coastal village have to do with weapons of war and one of the most controversial US presidents of all time?
Read on to find out.
Balmedie Beach
Despite the mildly intriguing headline, we'd be remiss if we didn't first give proper attention to Balmedie's main attraction – Balmedie Beach.
A vast and stunning sandy beach which extends for 14 miles to Ythan Estuary, Balmedie Beach provides some of the most picturesque seaside sights you'll see anywhere on the UK coast.
Fine, soft sands await your sandal-strapped soles – you'll swear you were strolling along a beach in Spain (although the chilly North Sea water will quickly remind you that you're in good old Scotland!).
It's super clean, family-friendly, and the perfect spot for sand-castle building, kite-flying, or simply running along the miles of sand, free as can be!
The sand dunes get so big they're almost cliff-like in some areas. A great spot for selfies and a bit of a climb if you feel so inclined.
And, despite the beach's beauty, it's one of Scotland's best-kept secrets – many visiting tourists report having the whole beach to themselves. So you can pretend you have your own private island for a day or two. Bliss!
Nature Reserve
Balmedie beach is part of Balmedie Country Park and is a Site of Special Scientific Interest (SSSI) due to its unique wildlife and landscape. The dunes are a habitat for 255 bird species, and the shores are a great place for you to get a glimpse of a seal pup or two.
You can also witness other fantastic marine mammals – and we're talking real-life full-sized dolphins and whales here – gliding through the North Sea. There aren't many places on the UK coast with this sort of wildlife, but you can see them all here. An animal lover's dream.
Where Bombs Go to Die
Balmedie beach was used as a bomb cemetery during World War Two – a sinister-sounding label if there ever was one! But Balmedie made some critical contributions to the local war effort by taking this designation on its shoulders.
The German Luftwaffe mercilessly bombed nearby Aberdeen from 1940 until 1943 and suffered 34 Air Raids in total – the most of any Scottish city during the Second World War.
So how did Balmedie – the little Scottish coastal village – play its part? Defused and unexploded bombs were transported here to either be cleaned of explosives or detonated on the beach where they could do no harm.
It's where bombs went to die.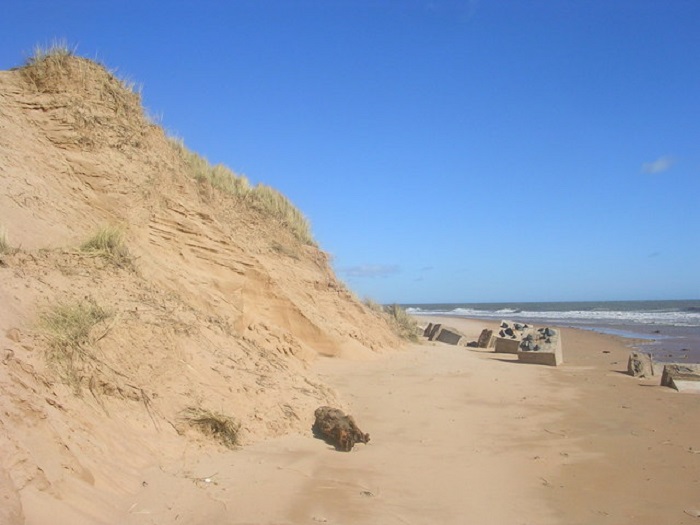 Sand dunes on Balmedie Beach, Balmedie, Aberdeenshire Photo by Richard Slessor, CC BY-SA 2.0, via Wikimedia Commons
Nowadays, Balmedie is an exciting spot if you're a history buff, as you can still see remains of sea defences, like barbed wire, pillboxes, and anti-tank blocks, in certain areas along the beach.
In fact, a beach minefield was laid at the nearby Mill of Menie during the war in case Hitler attempted a full-scale invasion. It's since been cleared of all mines by a Royal Engineers Bomb disposal unit.
And interestingly enough, the old rusty fragments of a mine were discovered during the construction of the Menie golf course.
Speaking of golf courses…
Donald Trump's Golf Course
Donald Trump made headlines in 2006 when he purchased a portion of the Menie Estate, a historic property that dates back to the 14th century, to develop two 18-hole golf courses, 950 holiday homes, 500 staff and residential houses, and several other adjacent developments.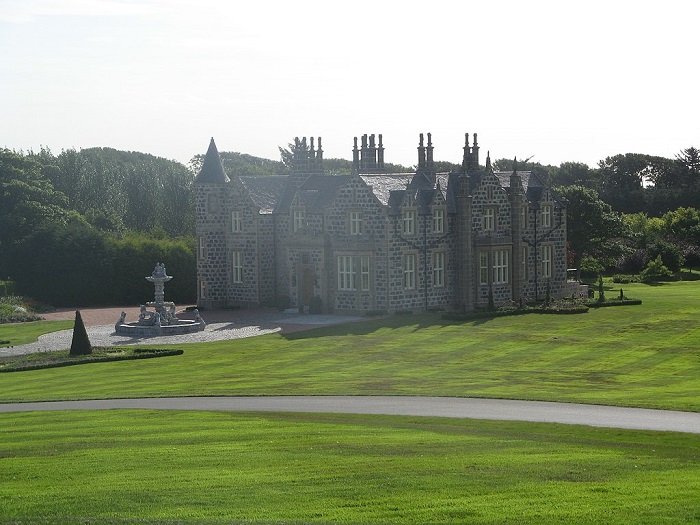 Menie House, Balmedie, Aberdeenshire, Donald Trump Golf links Photo by Sagaciousphil, CC BY-SA 3.0, via Wikimedia Commons
The project was deemed by Scottish Natural Heritage to be destructive to the area's protected habitats. But did that stop Mr Trump from getting what he wanted?
Nope.
Aberdeenshire Council planning officials approved it, and today, Trump International Golf Links is situated along the coastline, with Menie House since being repurposed as Trump MacLeod House & Lodge Hotel.
Many say they are a beautiful set of golf courses perfectly immersed in the Aberdeenshire countryside. Their construction has, however, divided the community, and further headlines were made in 2015 when old Donald tried to prevent a climate change-tackling wind farm from being built within sight of his courses.
This time, his attempt was dismissed by the Supreme Court. The wind turbines stand tall to this day.
And the view doesn't look half bad.
Cover image – Balmedie, Aberdeen, United Kingdom by Jamie McLennan