Bacton on the Norfolk coast is 10 miles south of Cromer and approximately 20 miles from Norwich inland.
Bacton is the home of Broomholm Priory, famous for possessing the relic "The True Cross" Broomham Priory was once a popular pilgrimage site for Christians. Founded in 1113 the priory was dissolved in 1536 and by the 1800s the site was being used as a quarry for stone to use to build agricultural buildings. Broomholm Priory ruins have been used as a dovecot and for storage. The partial remains mainly a medieval gateway and arch survive and can be seen just outside the village.
Whilst on the subject of historic buildings the parish church St Andrew is a tiny medieval church and can be found in a field to the west of the village. The Victorians restored the church, but the beautifully carved medieval font remains intact. Other historic churches in the area include those at Edingthorpe and Trunch.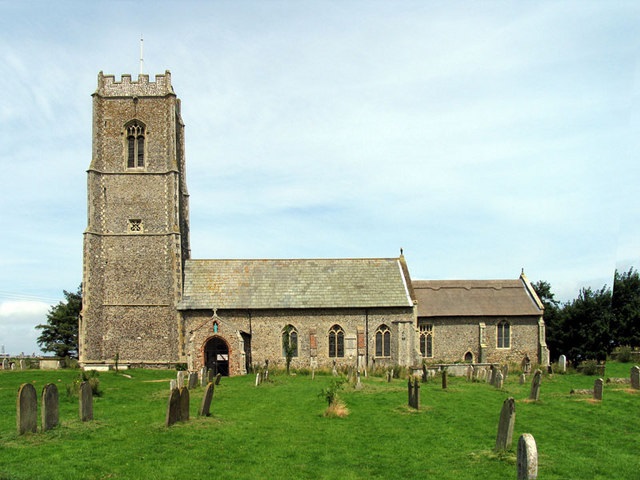 The Parish of Bacton has been in existence for a long time; its population, land ownership and productive resources are detailed in The Domesday Book of 1086. The Parish incorporates Paston to the North and Witton inland, and it is at Paston that there is a large gas pipe that has recently been "sandscaped" to look like sand dunes.
Because coastal erosion is a long term problem on this part of the Norfolk coastline, there are various sea defences along the beach. They include extensive sea walls to prevent erosion, rock armour and groynes that divide the beach and help to keep the sand in place. In 2019 extensive sea defence work was carried out, which I am told has improved the beach at Bacton and there are miles of sandy beach to walk along. An alternative is the pathway at the back of the beach that makes an easy walk affording great far-reaching sea views.
The path goes to Mundesley in one direction and Walcott in the other. Bacton Wood can be found two and a half miles inland and is sustainably managed woodland under the care of the Woodland Trust that has over 30 species of trees. There are plenty of paths through the wood, and it's an excellent place for orienteering, horse riding and walking. However, despite being named after Bacton, it's not as close to the village as you'd expect and really requires a car journey to get there. A few miles from BactonWood is Pigneys Wood that forms part of the North Walsham Nature Reserve.
The village has many attractive buildings, and many have been built with flint. There are two caravan holiday parks to the edge of the village, that apparently have little impact on the atmosphere of the beach. Bacton is well served for facilities including a village shop, two cafes, a Chinese restaurant, a kebab house, and a popular pub called the Poachers Pocket to the south. There is plenty of green spaces and recreational areas too.