John O' Groats to Land's End is a route that takes adventures from the very top of mainland Scotland to the bottom of England, hugging the scenic West Coast along the way. There's no official route for this iconic journey. Instead, travelers by bike, car, or even foot can construct their own adventure based on their travel desires.
The fastest cycle ride took just over 43 hours which is incredible! But for the slow travelers a cycle ride across the length of the UK can take as much as a month or even more.
Britain's West Coast certainly isn't a bike ride for the faint hearted. This 2,500 coastal JOGLE route will take riders up and down some brutal hills, but at least you'll earn some stunning views at the top!
North Scotland
If you're cycling the length of Britain from the top of Scotland, moving south then you're cycling JOGLE. You will begin at the most Northernly part of Scotland, John O' Groats.
To get to John O'Groats you'll need to take a train to Edinburgh or Glasgow, then a second train as far north as you can. For the West Cost, you'll be heading to Thurso, but there's a train station at Wick, too.
Typically, cyclists riding with a longer time scale ride from Thurso to John O'Groats and back for their first day.
John O'Groats is a tiny village most famous for its signpost pointing to major cities such as New York and London. And of course, it measures the distance to the most southernly point in the UK, Land's End, 874 miles as the crow flies. This iconic spot marks the start of adventure for many.
West Coast of Scotland
The west coast of Scotland offers cyclists undulating hills, quiet roads and peace for riders. This section of Britain's coast is certainly a place to marvel. The mountainous views of Scotland will leave you in awe.
Between the vast landscape and mountains you'll cycle through well-known highland towns like Oban, the unofficial capital of the West Highlands and the gateway to the Hebridean Isles.
In Oban you will find everything you need and could be worth staying for a couple of nights if you're a little weary. Oban offers gorgeous coastal town scenery, plenty of eateries and accommodation. Plus, the shopping is pretty good, too!
From Oban you can choose to follow the coast and take ferry from Oban to Mull. Or. optionally, you could explore the Outer Hebrides and join Hebridean Way. Riding the Scottish Isles will keep you in remote and peaceful lands, or you can continue on south to England.
As you leave Scotland and enter England it's important to remember that laws around wild camping change. Cyclists who enjoy a camp on public lands are welcome to do so in Scotland, but it is not permitted in England.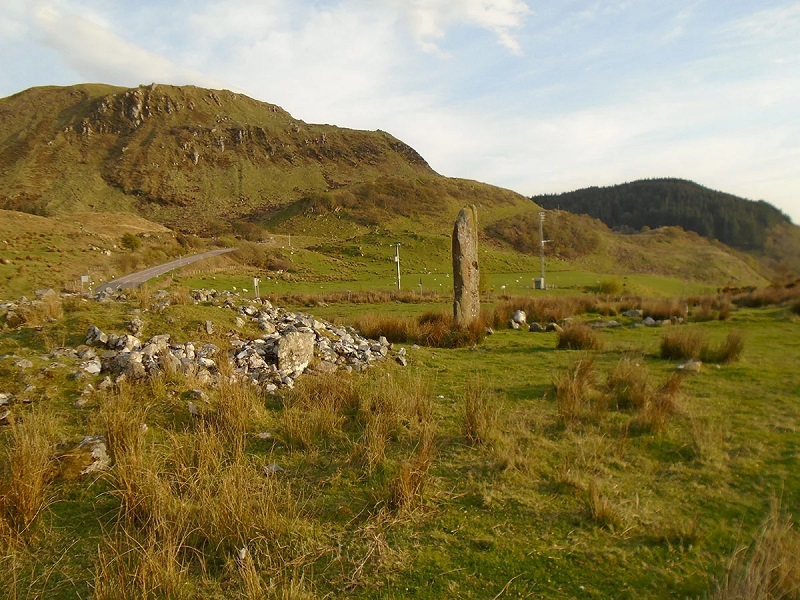 North England
In Northern England you'll ride through Bowness-on-Solway, better known to many as the beginning of Hadrian's Wall walk. This tiny village is a place to appreciate as you think about its rich history and association with the famous wall that joined Britain's West Coast with East.
Cyclists will be glad to know that, for now, there are fewer hills and flatlands ahead. A wonderful rest for sore legs, some recovery whilst still spoiled with coastal views and hints of the Great British Countryside.
When you get to Liverpool, a city famous for football, music and city culture you'll want to take a ferry across the Mersey. It's a short ferry, just five minutes, but it'll save you riding inland when what you want to do is stay close to those coastal views.
Before you do that, if time permits, consider a night off in this lively city. Liverpool is a fantastic place to stop for everyone. It's rich with culture and home to British super stars like The Beatles. You can take a couple days in Liverpool to soak in the culture, rest up in coffee shops or take a stroll around Albert Dock.
Alternatively, for the more energetic travelers, consider a visit to one of the many museums to learn about British history and pop culture.
South Wales
Scotland is well known for his mountainous landscape and it would be easy to assume that Scotland is home to Britain's hilliest costal routes, but Wales and England both bring a lot to the table, particularly Wales which will challenge any cyclist.
Along the West Coast of the UK you will find 'World's Steepest Street'.

Ffordd Pen Llech, Snowdonia National Park doesn't come without warning. The sign at the bottom warns of it's unbelievable 40% grade, but that hasn't stopped the steep street from attracting cyclists from all over the world. It's even been covered and the incline tackled by GCN.

Snowdonia's National Park, home to the highest mountain in Wales. Snowdon is a tough but rewarding ride. If you're lucky enough to catch the weather you'll enjoy uphill climbs and stunning downhills through some of the UK's best and most scenic roads. Every moment of the steep climbs will be worth it.
Devonshire
On tired legs, those tackling this epic bike trip will inevitably find themselves in Devon, the final country of the ride. In true West Coast JOGLE style, Devonshire is also not for the faint hearted.
On the West Coast of JOGLE brace yourselves for Porlock Hill, yet another of Britain's steepest climbs.
The thing with elevation and steep climbs it brings some suffering, but the views at the top are truly something to marvel.
Cornwall
Your final destination before rolling into Land's End is Cornwall. This is a gorgeous sea side down that will certainly lift weary spirts. It's friendly and has a seaside vibe. You'll ride past sandy beaches, quaint harbour villages and pass through the famous St. Ives.
Finally, you'll roll into Land's End where you can celebrate your incredible feat of exploring the West Coast of England by bicycle. Land's End is a treat with a signpost to mark the end.