Glamorgan's Largest Natural Lake
Towards the southern tip of Wales, there is a dune system that makes up one of the largest active sand dune systems in the whole of Europe. The system once stretched across much of the southern Welsh coastline, from the Ogmore River to the Gower Peninsula. It has shrunk in size since then, but remains a truly unique destination, much of which now forms Kenfig National Nature Reserve. Situated not far from the town of Port Talbot, Kenfig Nature Reserve consists of woodland, beaches and sand dunes that lead down to the small peninsula of Sker Point. This provides visitors with some great coastal views out over Swansea Bay to the Gower Peninsula.
On the south-western edge of the reserve, there lies a beautiful body of water known as Kenfig pool – the largest freshwater lake in the Glamorgan region. The reserve is especially popular with birdwatchers, due to the range of wildfowl it attracts throughout the year. There are many other sights to see as well, and visitors are free to explore the complex network of habitats at their leisure. Kenfig can also boast international significance, having been designated as a Site of Special Scientific Interest.
What's That Sound?
If you visit Kenfig Nature Reserve during the spring, you might be alarmed to hear a very loud, booming sound echoing across the landscape. Sometimes being compared to a fog-horn, this sound can travel for miles and it might surprise you to learn that it is produced by a bird. The species in question is the Great Bittern – a wading bird that is closely related to herons. Bitterns can be found in many regions of southern Britain, although they usually reside in wetland habitats with large reedbeds. Kenfig Nature Reserve is one of the few places in the UK where the Bittern can be seen in winter.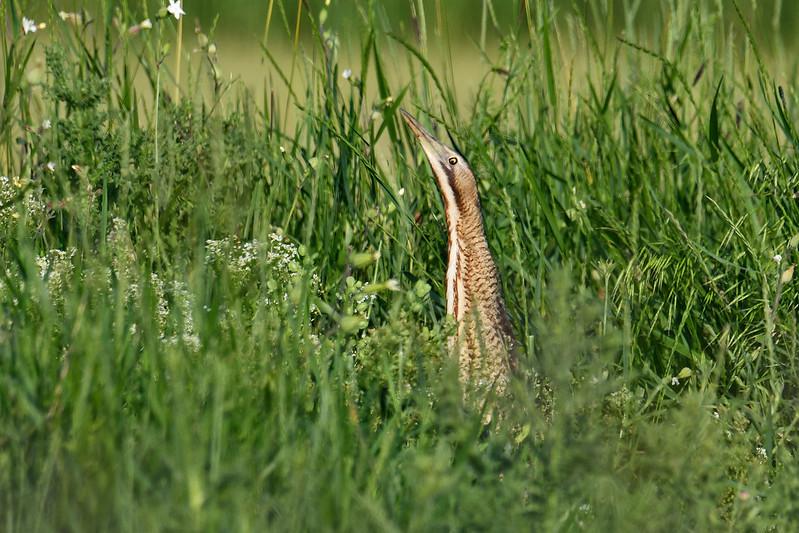 Their impressive booming calls are only heard during the spring, as this is when the males are trying to attract females. Bitterns usually grow to around 70cm in length, and for a long time it was unknown how such a small bird could produce such a loud call. Some theories speculated that the birds blew directly into the water or even utilised straws made from reeds. It is now known to be simply the product of very strong muscles in the oesophagus, which expel air with great force. A highly secretive species, you are far more likely to hear a Bittern than see one. Top tip for hearing Bitterns at Kenfig Nature Reserve: visit between February and May, when the breeding season is at its peak.
Sweeping Sand Dunes
Kenfig Nature Reserve is an important conservation site, with its unusual sand dune ecosystem providing a haven for rare species. Some floral examples include the Bee Orchid and the incredibly uncommon Fen Orchid. The reserve is thought to hold around 90% of the UK's Fen Orchids and it's therefore the best place in the country to get a glimpse of this delicate plant. The area is also great for viewing birds and a small hide is positioned overlooking Kenfig Pool, providing visitors with opportunities to see Grey Herons, Garganey and Shelduck. The reserve also has a tendency to attract rare visitors that are not often seen on British shores, with some examples being Purple Herons and Caspian Terns.
Elsewhere on the reserve, dragonflies and butterflies are common sights during the summer months, as well as a range of other invertebrate species. If exploring the beaches or the shoreline around Sker Point, be sure to keep an eye out for marine favourites such as dolphins and porpoises. These animals can often be seen travelling along the coast and will sometimes feed close to shore, allowing you some fantastic views. Another species to see out on the water is the Manx Shearwater. Kenfig Nature Reserve really punches above its weight in terms of wildlife, and is one of the best sand dune reserves in the whole of the United Kingdom.